There are literally trillions of reasons to become an e-commerce vendor in China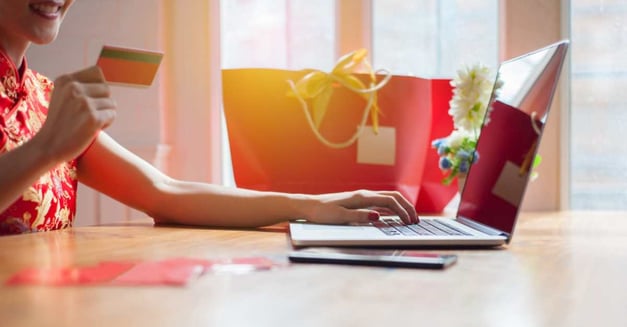 If you know China, you'll also know that the Chinese have been very quick to embrace technology, e-payments, and online shopping. In fact, China is one of the world's fastest growing e-commerce markets and has been top in e-commerce retail sales globally for some time, driving the Asia-Pacific region to account for 62.6% of all digital sales (around $2.4 trillion) (source). But how to take advantage of these strong online sales as a foreign investor?
China's online shopping market is booming
In 2020, China's e-commerce sales accounted for $2.090 trillion USD (source), so the vast majority of the Asia-Pacific region's value. To put that into perspective, North America combined came to around $750 billion, so there are vast numbers of internet savvy shoppers just waiting to place orders in China.
It is not only overall spending on e-commerce that's interesting in China, but also that the pool of customers turning to online shopping is actually growing annually.
In 2019 online sales accounted for around 35% of China's retail sales (source), but this has since ballooned to a mighty 52.1% of retail sales in 2021 and is predicted to grow even further in 2022: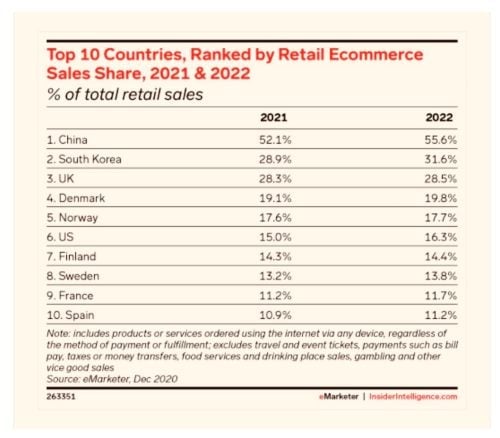 So, if you have a great product (or application) and want to become an e-commerce vendor in China to take advantage of this booming market, can you?
Selling online in China
We all know that China has fairly comprehensive controls over how the internet is used and by whom, and this extends to selling online, too, of course.
Here are a selection of key points which will help you understand how to sell in China as a foreign investor and some of the requirements you need to fulfil.
Am I even allowed to sell online in China as a foreigner?
Yes, foreign investors CAN sell products and apps online in China on its numerous e-commerce platforms.
You can set up a website for your brand or business (but do you really need to?)
It's possible to set up a Chinese website for your company or brand which serves as a marketing and information tool for would-be consumers.
Some foreign brands choose to set up a Chinese site online or a mini-site on WeChat so consumers can learn more about their story, see new products and detailed information, and also get in touch for customer support. But, in terms of online sales, these websites usually drive the consumers to your storefront on the various e-commerce platforms that are commonly used in China.
Therefore, you may decide not to bother with a China-hosted website at all (for example, you may add a Chinese-language version of your main website to your usual domain so it could have a URL something like: "ACME.com/cn/" and Chinese consumers could go there for information, BUT it may be blocked in China (by the great firewall) as many foreign websites do tend to be.
ICP备案 (Internet Content Provider) filing
As you may know, foreign investors require an ICP filing (ICP备案) to host a Chinese website and you need one filing per domain.
You perform the filing with the authorities and will be issued with a number which will look something like this on the website: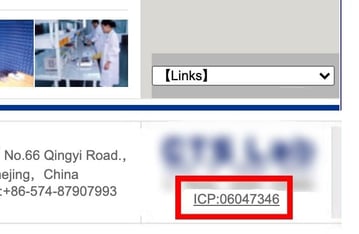 Foreign investors usually only need to be concerned with obtaining an ICP filing for their non-commercial website and you do NOT need one to sell products on platforms such as JD.com or T-mall.
Benefits of an ICP Filing
An ICP filing allows you to setup a Chinese website if you decide it will be helpful to do so, and it provides these benefits:
Your site will be less likely to be blocked by China's firewall as it is hosted in China itself.
Due to local hosting, Chinese site visitors will have a better experience as it will load more quickly.
Chinese search engines like Baidu and Sogou (yup, Chinese users don't/can't use Google) will be more likely to rank listings from locally-hosted sites.
Having a domain ending with ".cn" provides enhanced credibility for local consumers over foreign-hosted sites.
Local sites can publish apps on local app stores.
How to apply?
A foreign investor is likely to need their passport, Chinese phone number, Chinese domain information, Alipay account connected to a Chinese bank account, and a contact who can handle mail. Everything is in Mandarin, so the application process could be difficult for non-speakers.
✅ We can help you to apply for your ICP filing. Contact us to discuss this.


Understand the online shopping culture in China
In the West it's pretty common to shop directly on a company or brand's website or app, let's say something like Nike.com. Sure, you can also buy Nike clothing and footwear from other online stores and marketplaces like Amazon or eBay, but they're not always a consumer's first port of call.
However, in China, online marketplaces such as T-mall are a consumer's preferred e-commerce option.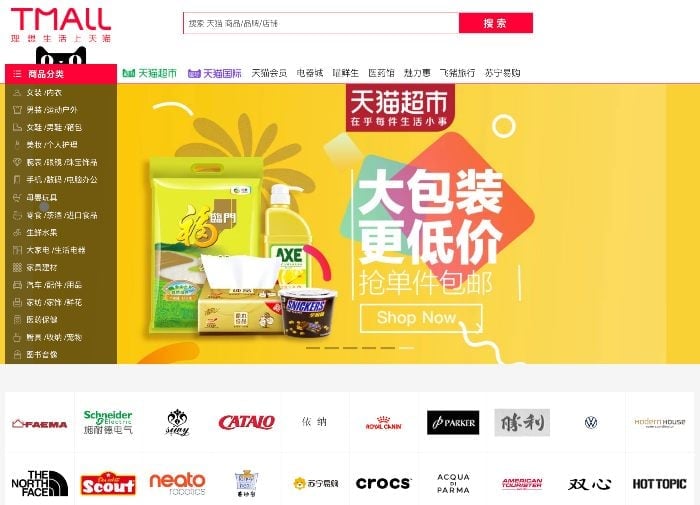 These are platforms are like online malls. Some are similar competitors, and others have carved out a fairly unique niche for themselves:
Taobao (from Alibaba - this site sells EVERYTHING you can think of - focused on local and value goods in particular)
T-mall (from Alibaba - focused on luxury items and foreign goods - probably China's best known online mall for quality products)
Suning (focused on consumer electronics of all kinds, also has physical stores around China)
JD.com (formerly all about consumer electronics, but now branching out into all kinds of products such as beauty and food)
Pinduoduo (a now mainstream affiliate sales app where users get rewarded by promoting products and introducing new users that originally grew as a kind of movement in smaller cities)
Kaola (from Alibaba - specializes in cross-border goods from countries like Japan or Korea, for example)
Xiaohongshu/Little red book (social selling with tips and reviews, with a focus on fashion and beauty)
VIP (launches numerous flash sales for electronics and fashion products)
Don't forget WeChat, too, which is a mobile app which is 'all-in-one' and is widely used for messaging, payments, and more by over 1 billion users globally. However, it is not exactly a mall like the others (you can add a mini-site to sell goods) and only attracts traffic via promotions which could be costly, as opposed to casual browsers who may find your products in the online malls.
These sites are where those Chinese consumers are spending the bulk of that 2 trillion dollars, not on self-hosted brand websites!


Do you need an ICP filing (Bei An) for selling online in China?
Many foreign investors wonder if they need an ICP license when they're setting up a storefront on a platform like, say, Taobao.
No, you DO NOT.
Let's be clear:
Foreign investors will need to do this if you're adding your own self-hosted informative China website (as described above).
You don't need an ICP filing to sell products or apps on e-commerce platforms.
However, you DO need a business license to do e-commerce sales.
To join platforms like Taobao, set up a storefront, and take online payments, you will require a business license, office rental contract, and copies of the passport of the company legal representative. This means that you need to open a real Chinese company - either a WFOE or a Joint Venture. In addition, you will also need a Chinese business bank account for your company.
Not every e-commerce platform is the same, for instance the mobile platforms like WeChat may have fewer requirements to join, but, nonetheless, you need a 'presence' in China (such as a company WeChat account and bank account) which most foreign investors won't have and need help to set up.
Taking online payments in China
How will you take payments from the consumers? This is especially relevant when opening a WeChat store. Chinese consumers mainly use two e-payment methods: Alipay and WeChat pay, and so integrating both is probably best as you hardly ever see one option without the other.

Either the consumer or vendors scans each other's QR code an a payment will be sent instantly.
How to apply?
Similar to joining the e-commerce platforms as a vendor, you'll need:
A Chinese company (usually a WFOE)
A local business bank account
An Alipay or WeChat pay developer account, app ID, and WeChat pay function
A local web developer to integrate payments into your app, WeChat store, etc
An accountant to handle your sales and withholding taxes
A way to transfer funds out of China converted into USD
✅ Obtaining all of the above rely on perfect Mandarin, but, once again, our team will help you to set up your WeChat account and payments. Contact us to discuss this.
How to open a Chinese company so you can start selling online in China?
Opening a Chinese company is a complex undertaking, but we can help you open it and get one step closer to your dream of getting your own slice of those $2 trillion of Chinese e-commerce sales with your complete China company registration package.
Our experts take care of everything for just 5,600 USD: WFOE setup and the first year of bookkeeping to keep you compliant.
"But I can't visit China to sort all of this out!"
You may not be able to visit China right now due to pandemic restrictions, but that's not a barrier either - select to open a Hainan company and bank account and it can all be done remotely with only a copy of your passport required to start with and, as Hainan is a special economic zone, your business there only attracts a lower rate of 15% profit tax (which can be around 20-25% on the mainland).
So, hit the link below and tell us your plans for your new Chinese company. What kind of products will you sell and which e-commerce platform are you interested in selling on? We'll guide you through it.