In today's media-clogged world, face-to-face interaction between a business and their clients or consumers are all too easily underrated. But getting your business to the front lines of where your customers are gathering in China can be a game-changing move if executed with excellent form, as these tips from Hongda and the organisers of the SZ Health & Wellness Fair illustrate.
Why attend business fairs in China?
China is the central hub of business, and there are fairs for every kind of trade, product, and activity being run all of the time. While being interesting for the public, foreign investors in China can also take advantage of attending such fairs or even partnering with them.
Think about this, you get cheap or even free advertising for your company, and get to network with peers (either foreign or Chinese) on the ground. If you can form valuable business relationships from such an event then it's well worth considering getting involved.
For example, this year Hongda are partnering with the SZ Health & Wellness fair which takes place on May 5th 2018 in Nanshan district, Shenzhen. Why not become a vendor and get more exposure for your health or wellness business if you're in China?
So, you're partnering with or attending a fair?
Here are 4 tips to help your business get the best out of the event:
1. Mingle.
Fairs are good indicators of the health of a market on a local and regional level. By attending -- and especially by attending regularly over the course of seasons or years -- you'll have the opportunity to observe first-hand how "hot," "cold," "waxing," or "waning" your target audience is -- as well as the market as a whole.
Take advantage of all relevant platforms. A good event is one that has more than just table-space to offer.
For example, on the day of the SZ Health & Wellness Fair, vendors have the opportunity to get in front of a live audience by giving a talk, demo, or fitness class, as well as to opt-into opportunities like a tasting panel hosted by local media ShenzhenEat. All these varieties of activities translate into dynamic ways to engage with people and shares your business' personality and flair, as well as provides a chance for the press to capture you in your element.

2. Start a conversation.
There's no better place to perform much-coveted direct market research than by putting yourself on-the-ground in the midst of your ideal clients.
3. Draw a crowd to your booth (if you're a vendor).
Keep attractive incentives on display: Free water, snacks, or trinkets to give out to passers-by. Or, you could dispatch a team member or two to wander the floor and spark conversations more organically.
With carefully-picked questions at-hand, you'll be able to glean consumer insights, the human components making the resulting answers more reliable than online surveys, which are easily clicked-through.
4. Leave a lasting impression.
Another key feature when assessing the value of an event for your business is its capacity to help you maintain post-event contact with attendees.
For example, all participating organizations at the 6th Health and Wellness Fair are given the opportunity to put an ad in the fair coupon book as well as put any materials they wish in the goody bags, both of which are given to guests for free. These serve as physical mementoes of the day and encourage guests to revisit your company after the event is over.
The 6th SZ Health & Wellness Fair, to be held on Saturday, May 5th, is a community-oriented and family-friendly gathering of leading names in the health, nutrition, and fitness markets. Held at Vista-SK International Medical Center, the SZHWF will see 30+ wellness businesses and organizations represented. Vendor slots are still open, so to explore what being a vendor at the 6th SZHWF might have in store for you, visit the vendor registration page here.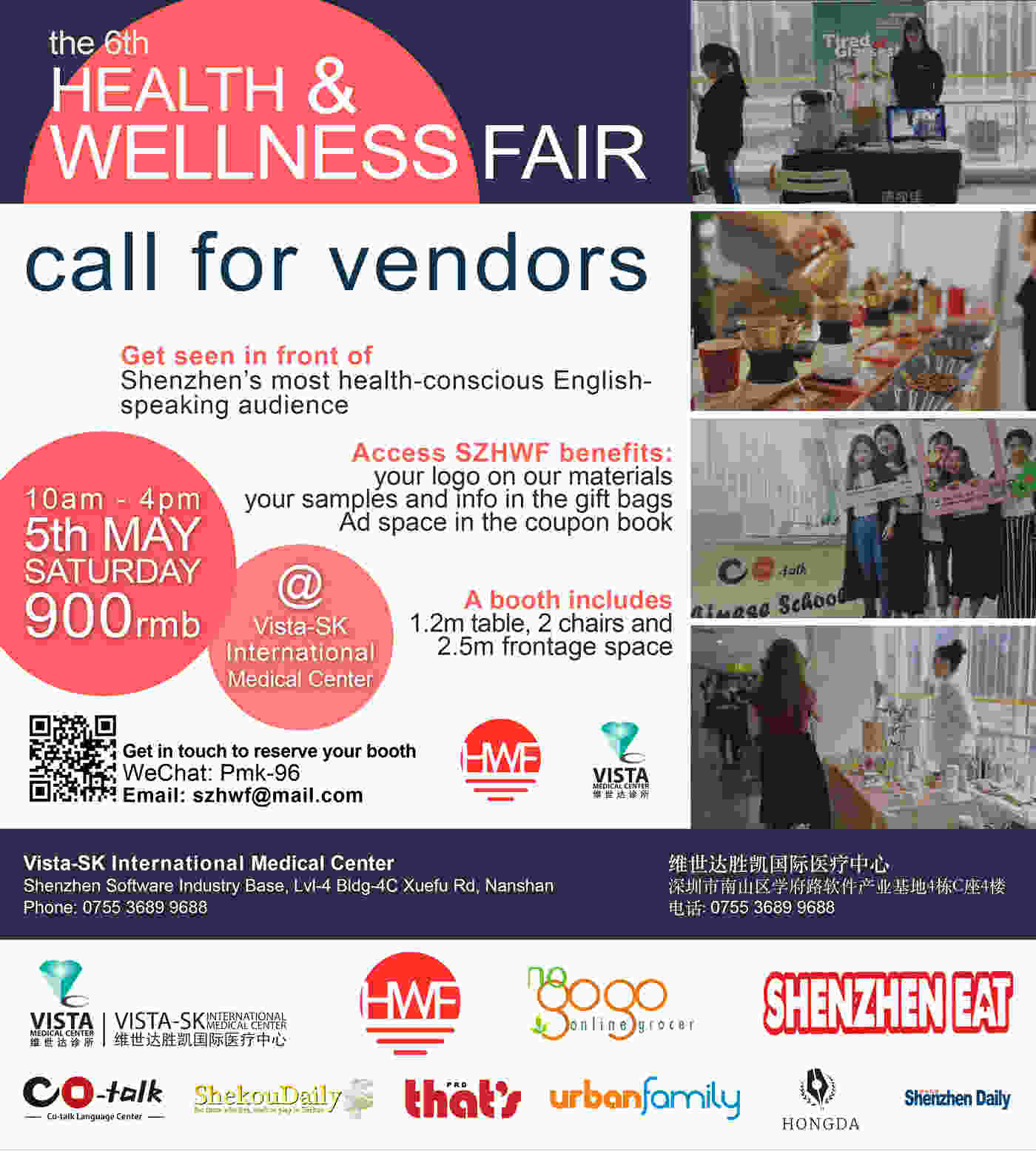 Attending business fairs in China or even being part of an event can benefit the operations side of your business, too. Hongda and the 6th Shenzhen Health and Wellness Fair are holding a special business-related talk for the benefit of SZHWF vendors both past and present where we will be sharing up-to-date business information and tips aimed at making you more compliant and making doing business in China easier, and also giving the opportunity to ask our experts any questions you may have live.
Why not join us and get great business advice from Hongda as well as being able to get more exposure by being a part of the SZHW fair!?
Have your say...
Have you improved your business in China by attending fairs? What did you find helpful and which fairs did you, or are you attending?
Let us know by leaving your comment below, we'll be pleased to answer any questions you may have about doing business in China, opening companies, or becoming compliant in accounting, etc. You can also contact us here.