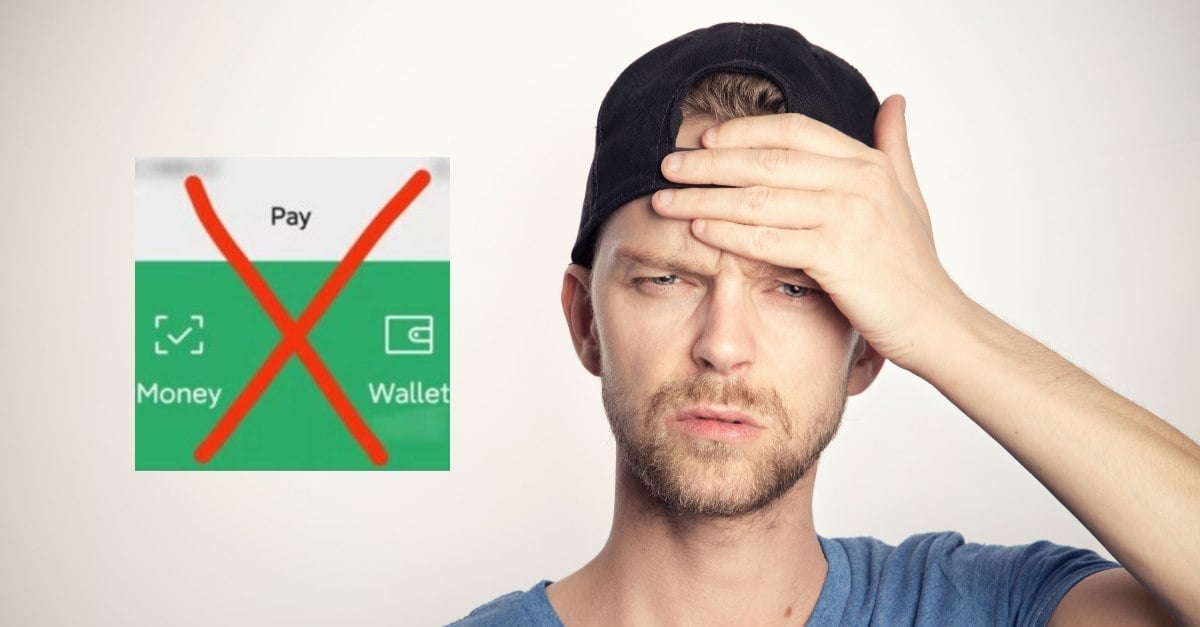 Starting on Monday, November 15, 7 pm, ex-pats across China started lighting up WeChat groups and posting on Moments with complaints about WeChat Pay suddenly locking up when trying to pay for an item or send money.
Before you race to your bank in search of help, here's an overview of solutions and workarounds.
Ex-pats suddenly started receiving this message prompting them to verify their identities before WeChat pay could be used: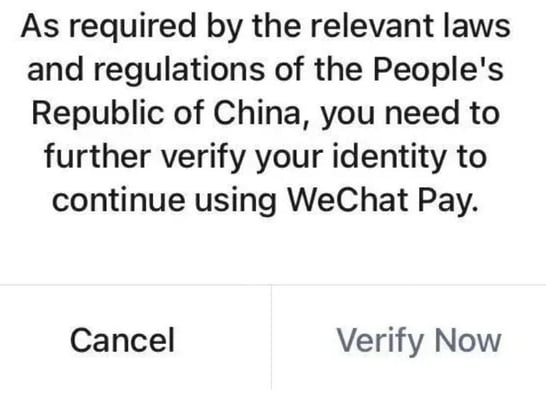 Hongda reached out to the WeChat support. They explained:
Recent upgrading of banking regulations by the government has led to some trouble with the new version of WeChat.
How to fix the WeChat Pay issue?
So, here's what you have to do to fix this problem if you are experiencing it.
Long story short, you have to cancel WeChat Pay and set it up all over again. If this doesn't solve the problem, please contact WeChat support at 95017, choose 0 from the menu, then 9 for English. They should be answering daily between 8 am to 6 pm.
Here are the steps (this guidance is provided with the assumption that your WeChat pay was previously working fine and that you currently have a bank card linked to your WeChat account).
Please note: all your payment history will be deleted after going through this process.
1. Withdraw all your money from WeChat in Balance > Withdraw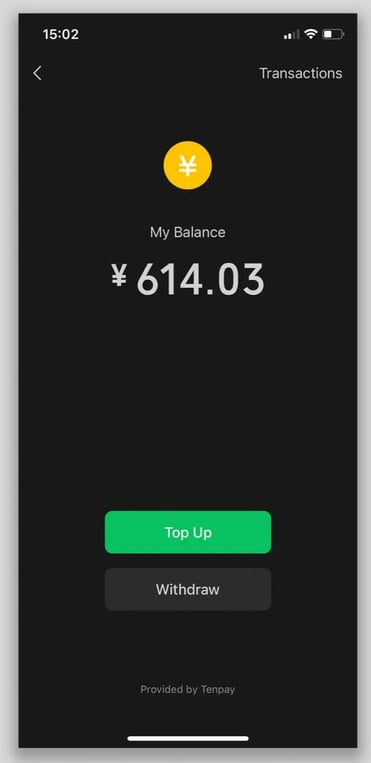 2. Go to Payment Management (the 3 dots on the top of the Pay page) and cancel all 'Auto-Deducation Services'.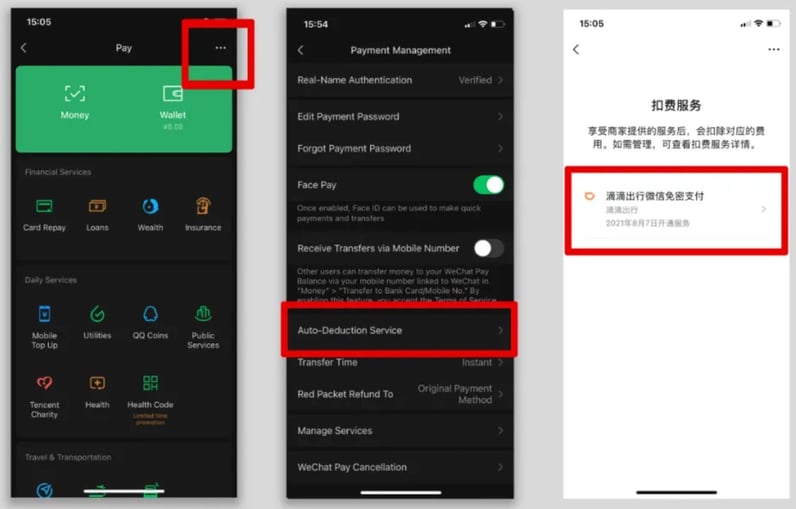 3. Delete all linked bank cards.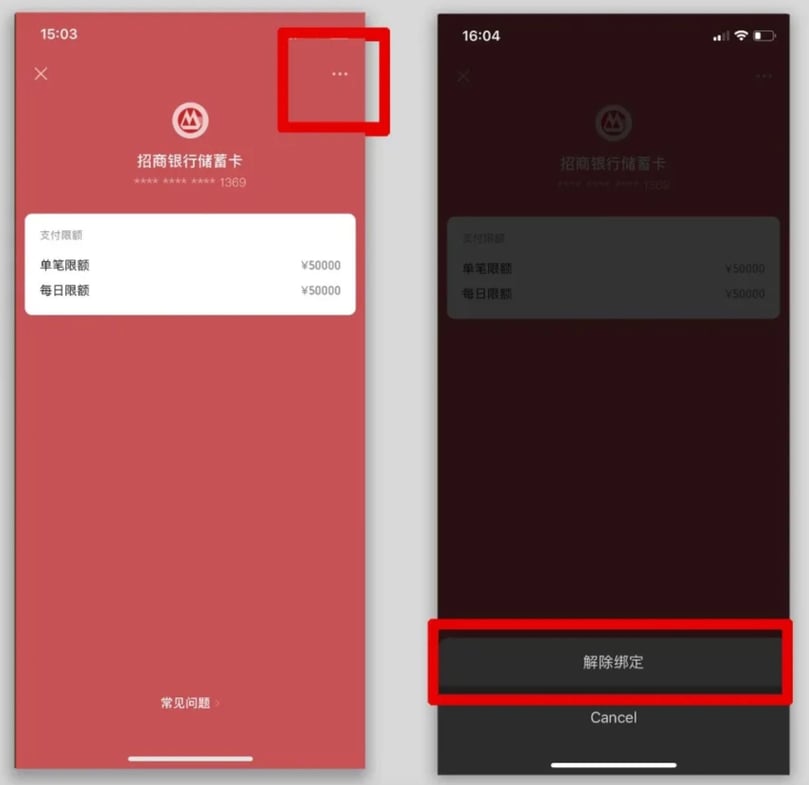 4. Go to "Payment Management" again and cancel WeChat Pay.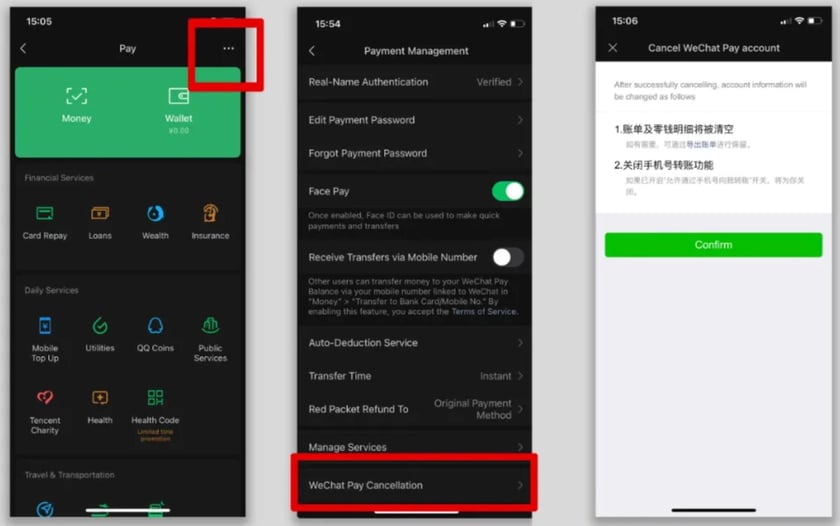 5) Set up WeChat Pay again by adding a new bank Card
Any other points to be aware of after going through this process to fix WeChat Pay?
Send & receive some payments from friends
We've seen some screenshots going around WeChat groups from another conversation with the WeChat support team that also suggests the following:
Once WeChat confirmation is received, ask three friends from existing contacts to send you a small payment, receive payment to WeChat money. Return payments to the same friends.
Why might this be necessary?
They're probably asking you to do this because it allows the system to see that your newly-created WeChat pay account is sending and receiving payments from trusted contacts. If a new account starts sending/receiving payments from strangers it risks being blocked by their fraud detection systems.
If you have trouble adding a bank card
If you are having trouble adding a bank card, here's what that usually boils down to:
The name on your bank card must exactly match the name registered to WeChat. If you used a middle name on your bank card, but not on WeChat, for instance, this will prevent the card from being added. Your best option then is to register a new bank account with the exact same name as on WeChat.
If the name is not the issue, try checking the phone number and passport number that's registered with your bank. Is this the same as that registered with WeChat? An example is, if you have an older bank account that you registered with your previous passport, but used your new passport to register WeChat pay, it won't work due to the non-matching passport numbers.
What if I'm not going to be able to use WeChat Pay any longer?
Due to the complexity of opening a new bank account, etc, some users may choose not to use WeChat pay anymore. If that's the case, keep in mind that China has other payment options. Notably, WeChat Pay's greatest competitor Alipay. The good news is, if you've been used to using WeChat pay in your favorite stores in China, it's almost certain that those same stores will accept Alipay, too.
*****
Let us know. Have you been affected by this issue with WeChat pay? Did the steps outlined here work for you to solve the issue?