China accounting 101
With modern day accounting practices having been slowly but surely adopted in China since its embracing of Deng Xiaoping's proposed reformation of economic policies, the switch from a socialist economy to that of a market economy has helped usher China into the new age of business.
Today, however, China's accounting standards still differ in certain respects, they are complicated and the inconsistency of regulations due to regional differences makes it necessary for foreign companies to consult local practices and government bureaus.
Keeping up to date with them is crucial for every business owner that wishes to stay compliant in China. It is to this end that we have created a FREE, downloadable eBook to help easily introduce China accounting to the masses.
Find out who will benefit from downloading this eBook, the subject matter it covers and how to download your very own copy!
Who will benefit from this eBook?
Accounting is a practice that is comprised of many different fields such as bookkeeping, auditing and tax filing. This eBook provides an introductory, yet informative look at China accounting practices, and has been composed in such a way that it stands to benefit:
Anyone seeking to learn about China accounting practices
Anyone seeking to learn more about the major taxes for foreign companies
Foreign enterprises that are planning to set up operations within China
Foreign enterprises and individuals that are currently operating in China
Foreign enterprises that are preparing for their annual China audit
Foreign enterprises that are considering outsourcing their accounting work
---
What does this eBook cover?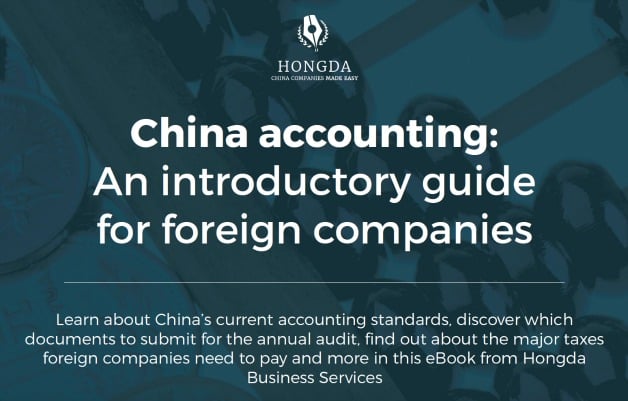 What you can expect in our FREE eBook:
Discover who the accounting work is done by in China
An introduction of China's current accounting standards
Key differences between the old PRC GAAP and the new PRC GAAP
A breakdown of the required documents for the annual audit
The processes of preparing for the annual audit
A list of the major taxes for foreign companies in China
A head-to-head comparison of in-house vs. outsourcing accounting work
A look at the benefits of outsourcing accounting work in China
Additional external resources
---
How do I get my own FREE copy?
To download your FREE copy of 'China accounting: An introductory guide for foreign companies' simply click the button below!