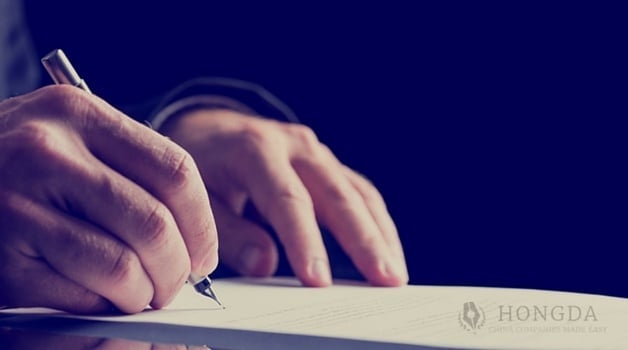 For everyone planning to come to China and pass through Shenzhen for travel or work purposes, knowing which China visa type to process and the documents required to do so is one of the first steps to making their way over.
Fast forward to arriving in Shenzhen and the entire China visa application process nears its completion when the new arrival prepares to register at his/her local police station.
All foreign nationals are required by law to register their temporary residence with their local police station within 24 hours of their arrival. This applies to everyone from those staying in a hotel (the hotel usually handles the registration for guests) to those that are staying in accommodation outside of a hotel.
This step is a prerequisite to those looking to extend or apply for a new visa or a China work visa (residence permit), making it very important for those looking to stay for an extended period of time to comply with the law. However, this is still something that scores of new arrivals tend to forget!
After a long flight, baggage pickup, customs and the excitement of exploring the city, we can fully understand why this may slip your mind, so we've decided to make things a little easier for you by providing you with a rundown of where you will need to register once you arrive, what documents you will need to take with you and more useful info below...
Where do I go to register once I arrive in Shenzhen?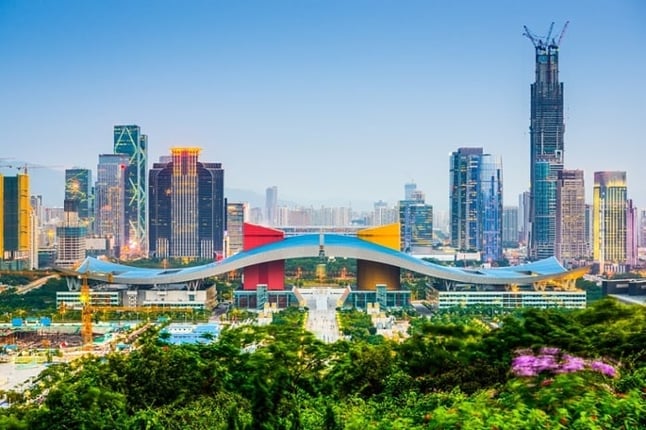 When you arrive in Shenzhen you will need to register at your local police station, meaning that you will have to find out:
Which district you are staying in
Where your local police station is
Here is a list of police stations in various districts, their names, phones numbers (you'll need to enlist the help of your local Chinese contact should you wish to call) and addresses.
Which documents do I need to prepare?
Once you have found out which district you are staying in and where your local police station is, it is time for you to prepare your documents for registration:
Two passport photos (not every police station will require a photo, but best be prepared in case they do)
Passport
Copies of your main passport page (x2)
Copies of your China visa (x2)
Copies of the stamp in your passport of your last entry (x2)
Original housing contract
A letter from the neighborhood where you live or from your apartment complex's management company (管理处) indicating that you are a resident there
How do I go about registering?
Once you have made copies of your personal documents and rounded up the rest, you can make your way over to your local police station to fill out a form that looks like this: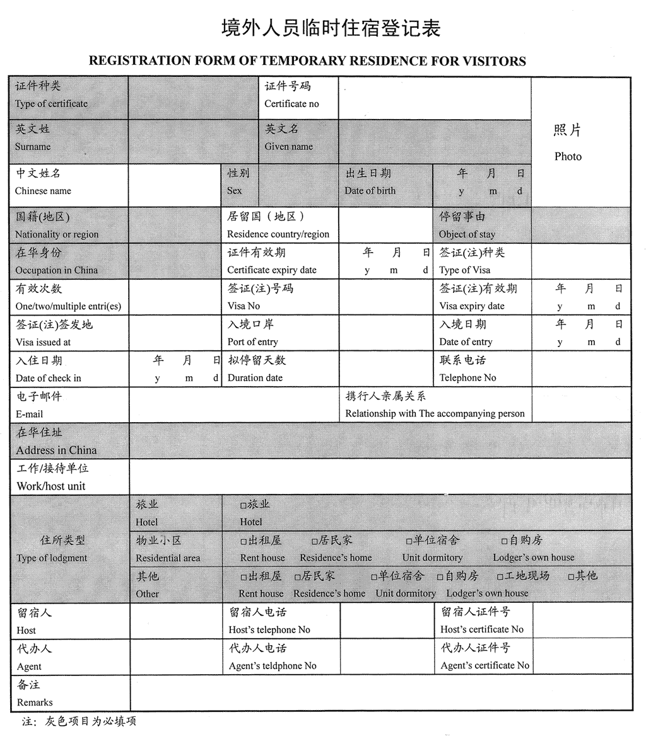 Go to the your local police station and ask where you can register for your temporary residence permit. It is advisable that you take your local Chinese contact with you, or a friend that can speak Chinese to help speed up the process
Once you know that you are in the right place, proceed to fill out a form like the example above
Submit the completed form and all of your other documents to the officer helping you register
Once the documents are checked and your information entered into the system, your form will be stamped and returned to you as evidence of your temporary residence.
It is important to note that moving to another place of address other than the one you registered or renewing a visa will require you to re-register following the same guidelines as above.
Remember, this process is the same for ALL visa types, no matter if you're applying for a China work visa or are just here temporarily as a tourist. It is certainly possible not to bother to register at the police station for individuals who are here temporarily, but we don't advise this.
If you have any questions about China visa application, please feel free to contact us, or leave your question as a comment on this blog post. Our local experts will be delighted to help in any way possible!
---