Getting to know what a China visa application entails
Thanks to China's prosperous growth in recent times it is no longer a land of the unknown! It is one that has become a popular destination for foreign tourists having taken huge strides to opening its doors to foreigners with 3,846 million tourists visiting its shores in 2014.
China has also become a more favorable country for expats to live and work in, with the cities of Hong Kong, Shanghai, Beijing and Shenzhen amongst the most popular. This being said, foreigners looking to make the move out to the East to pursue work opportunities are required to process a Z visa and all the other permits that come with it once they arrive, something that more often then not is quite a difficult process to negotiate.
That is unfortunately the way of the world this side and for this reason it is recommended that one processes it through a professional agency that specializes in immigration procedures. However, it is always good to know what documents are required as each city or province has its unique set of requirements and there are differences.
In this blog we will take a look at the necessary documents to be submitted, the procedure involved as well as the time frame of China visa applications in our homecity of Shenzhen...
How your visa application is done
The first items applicants have to submit are for the employment permit. This is done by the employer and below you will see what documents need to be submitted and notes in order to process it:
Copies of applicants' first passport page and current visa (if you are already in China)
Original of applicants' education certificate
Updated CV
A picture of the applicant
* Applicants applying from abroad need to take and submit 2 colorized photos (the other one will be needed later in the process). Applicants already in China need to take photos at their local Kodak (photo/coping/printing service centre) where they will need a receipt of authentication (this should be given as standard along with your photos, so if it is not offered you must ask for it). These photos should have a blue background.

TIP >> You will likely need a number of pictures for official purposes during your stay in China, so it's recommended that you purchase perhaps 10 or so.
* Applicants applying from abroad just need to submit a copy of a health certificate that shows their current state of health. Applicants that are present in China need to do a mandatory health check at this hospital:

Living district, Huanggang Port, Shenzhen (深圳市皇岗口岸生活区1号综合楼三楼).

The check itself usually takes about an hour or so and costs 480rmb. The medical certificate at this hospital takes 5 working days to process. Applicants under time constraints may choose to pay a rush fee of 680rmb or 780rmb to process the health certificate in 2 working days and 1 working day respectively.


When all the necessary documents have been submitted it will take up to 5 working days for them to be verified and approved. Once this happens the employer will then have to comply and process an invitation letter. The invitation letter takes up to 8 working days to process and will be forwarded to the applicant who will then have to apply for a Z-Visa at their country's Chinese embassy or consulate (it is possible that a Z visa could be obtained in HongKong, Macau, or a neighbouring country's Chinese embassy, such as in Kuala Lumpur, but this is subject to change and the recent trend seems to be that Chinese authorities do demand most expats to go back to their home country to obtain this). Some applicants will be required to be interviewed in their home countries. This is just to verify the documents to be submitted and to answer a few questions.

What happens when you get to Shenzhen?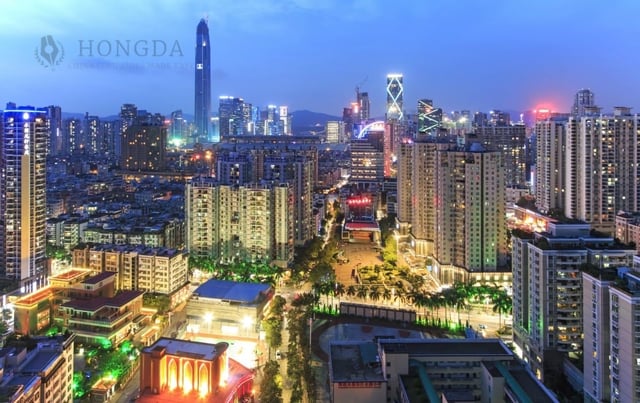 Once an applicant is safe and sound this side it is up to them to get their temporary residence permit from their local police station. Applicants will need to supply a letter of acknowledgement from the management of their new residence verifying the fact that they have moved in, a picture (one of the blue background photos you'd already obtained will do) and a housing contract from their landlord. With these documents applicants can visit their local police station to fill out the temporary residence form. This can be processed on the very same day.
Following this is an interview by the local authorities. The interview will be conducted at the local Public Security Bureau:

NO. 4016, Jiefang Road, Luohu District (深圳市解放路4016号- 罗湖公安局出入境接待大厅).

Once this interview has taken place one of two things will happen:
1) The application will be passed on the spot (applicants will then get a number to go and apply for the residence permit)
2) The application will be suspended for further verification (applicants will then have to return to their company's office where the relevant authorities will personally visit an applicant's work premises for further questioning (this can on occasion not occur, with the permission to apply for the residence permit being granted anyway, but just at a later date). They will conduct the questioning 1-2 weeks after the suspended verification and will inform the applicant's company afterwards of the results.
When the application has been passed applicants will have to apply for a residence permit. Once all of the necessary documents have been submitted by the host company applicants will need to wait up to 7 working days for their China work visa to be processed. Applicants must return to the the PSB in Luohu District to pick up their passport.
In accordance with the law, applicants must remember to return to their local police station once they have picked up their passport to update their temporary residence permits.
This concludes the application procedure for China visa application in Shenzhen, China. Please note that this process is subject to change and waiting times between each stage may vary. We will do our very best to keep you updated with the latest news.
Visa questions?
Are you planning on coming to Shenzhen for work or business? Have you already started the visa application process or not? Can your company offer you a China work visa? What are the things that concern you most about applying for your visa?
Let us know by leaving your comments below the blog post please, and we'll gladly reply and offer you advice.
---