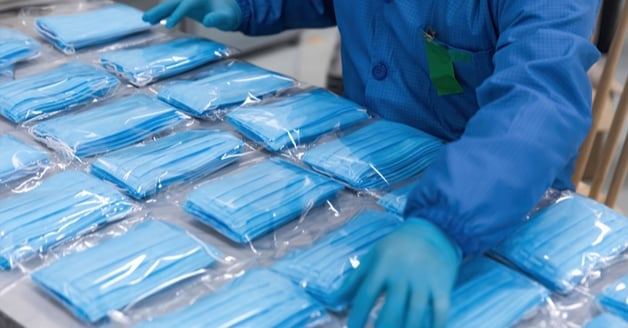 COVID-19 has generated an explosive short-term rise in demand for medical products such as protective masks, surgical gowns and sanitisers. Given that China is one of the largest exporters of medical supplies and personal protective equipment (PPE), the opportunity to invest in China's medical device sector is likely to grow. While we have seen a surge in demand for medical devices worldwide, this increase in demand for medical supplies from China is expected to continue well after the pandemic is over.
Despite the temporary increased need for medical devices in China, it is anticipated that there will be longer-term opportunities in China's healthcare sector that many FIEs are considering entering.
Prerequisites to exporting China's medical devices during COVID-19
With the sudden necessity for medical supplies globally, exporting medical supplies may seem like a golden opportunity for businesses in China – well, it's not as simple as that.
In an attempt to combat the worldwide distribution of counterfeit medical items, China has imposed new export restrictions for COVID-19 medical supplies. Effective since April 1, 2020, trading companies looking to export such goods must have the manufacturer's business licence and NMPA certificate as well as certification from an authorised testing lab. The new stringent restrictions have made it quite difficult to export medical supplies from China during COVID-19, but it's not impossible.
If you require assistance in exporting medical products from China, please contact our team of experts here at Hongda – we can help you find authorised testing labs and meet all conditions.
Investing in China's medical device industry
COVID-19 is likely to lead to a surge in investment in China's healthcare and medical device sector as China strives to improve its healthcare capacity. This will afford producers of medical devices, hygiene products, and other healthcare amenities substantial opportunities for growth.
However, if your foreign enterprise is considering investing in China's medical device industry, you will need to have a good understanding of the key regulations that govern the industry, including China's complex licensing scheme for medical devices.
Understanding NMPA & medical device classes
The National Medical Products Administration (NMPA), previously known as the China Food and Drug Administration (CFDA), is China's medical device industry regulator. They are essentially responsible for the registration of medical devices for the Chinese market, drafting new regulations and policy plans, and ensuring device safety.
The NPMA has categorised medical devices into three separate classes depending on their risk levels:
Class I devices are the lowest risk; only routine administration is necessary for their safety and efficacy.
Class II devices have moderate risk requiring greater control to ensure safety and efficacy.
Class III are high-risk medical devices and are subject to the strictest safety and efficacy controls.
If you are involved in the medical devices industry, you must regularly check the NMPA website and keep up with any important information regarding its regulations in China.
Requirements for medical device manufacturing
Whether you are exporting or manufacturing medical devices, it is important to understand the specific requirements producers must meet. While the requirements depend on the classification of medical devices, there are some standard rules that apply to all:
Manufacturers must have professional technicians, a production site, and production equipment that is suitable for the production of the medical device.
Manufacturers should have a separate department with adequate inspection equipment to conduct quality control of the medical devices produced.
In addition to these, each class has its own set of regulations, including the following:
Class I
Manufacturers must complete basic record filing with the local FDAs at the provincial, autonomous regional or municipal level.
Class II
Manufacturers must go through examination and approval processes by authorised local FDAs.
Manufacturers must satisfy the following during investigation:

Appropriate qualifications of the individuals in charge of the manufacturing process
Suitable production facilities and warehousing locations
Adequate quality inspection department
Class III
In addition to the above requirements for Class I and Class II, Class III manufacturers are required to have the following:

Minimum of two internal examiners who meet quality management system requirements
Minimum of two full-time technicians at mid-level positions or above with an associate college degree (or higher) in relevant subjects
Medical device trading
If your WFOE is considering engaging in the import or export of medical devices, you will need a medical device trading licence. Again, the approval process for medical device trading businesses differs per class:
Class I medical device trading companies only need to complete standard record filing.
Class II and III traders are required to go through examination and approval procedures.
In order to obtain a medical devices trading licence, companies need to meet certain requirements, including the following:
Qualified management and staff with relevant educational qualifications
Satisfactory business location with respect to its business scale and scope
Satisfactory storage facilities
Good product quality management systems like purchase and inspection systems and warehousing

Satisfactory technical training and after-sales service capabilities
How can Hongda help WFOEs navigate China's medical device regulations
While investment opportunities in China's healthcare sector continue to grow, manufacturers and trading WFOEs will face many different challenges. While we have highlighted the main regulatory constraints that must be met, there are still a number of different legal requirements that you will need to satisfy before you can operate in this industry. Our team at Hongda can assist your business through the registration process and determine the best route to NMPA approval in China, so you can start a business in this lucrative industry.