A non-criminal record in China is needed for work, student, or press visa applications or renewals. In this post, we're going to explain what the Non-Criminal Record (NCR) certificate is, why you need it, and how to obtain it.
What's a Non-Criminal Record Certificate?
The NCR certificate shows that you have not been convicted of any crime while residing in China.
When you need to apply for a work visa, permanent residence, or immigration from the United States, Canada, the United Kingdom, Australia, Singapore, Spain, South Africa, France, and other countries. Proof of your country of nationality and no criminal record during your stay in China will be required.
3 cases where an NCR is required
First Case:
Foreigners who have lived in the People's Republic of China for a long time due to work, study, reunion, etc., and are still legally residing/staying in China at the time of applying for a work permit, shall provide a certificate of no criminal record issued by the Chinese authorities when applying for it.
Second Case:
The foreigner's employer has changed and the original NCR certificate has expired. When applying for a new work permit, in this case, a new certificate of no criminal record in China is required.
Third Case:
Foreigners who have studied or worked in China and are now leaving China.
Which government department issues the NCR certificate?
Foreign citizens who have resided in China for more than half a year and who have not been subjected to criminal sanctions during their stay in China shall apply to the notary office of their location of current residence in China with their identity certificates, information about the time and place of residence in China, and other supporting materials of their work or school they study in.
What conditions must be met to obtain it?
Let's take Shanghai as an example. Foreigners must have lived in Shanghai for more than six months, have had no criminal convictions, and have a Chinese residence permit in order to apply for a certificate of no criminal record in the city (details for other major cities where foreigners commonly work could vary, so please check with us).
Generally speaking, only foreigners holding z-work visa, X1 visa, or J1 resident press card will have a residence permit in China and can apply for a certificate of no criminal record in China.
Note, different cities have different regulations...
For example, in Beijing, Shenzhen, Guangzhou, Foshan, Shenyang, and other cities, the exit-entry management center of the public security bureau is responsible for issuing a crime-free certificate, but it cannot be used directly after being issued. The certificate needs to be notarized at the local notary office first.
However, for other cities, such as Shanghai, NCRs are directly issued by the notary office without needing to go to the immigration center or police station.
Are these certificates indicative of no criminal convictions across the whole of China?
China's certificate of no criminal record is not managed by the central management system but implemented by the local public security bureau, police station, or notary office.
Therefore, in most cases, the certificate of no criminal record only means that there is no criminal record certificate in a certain city, and does not cover the whole territory of China.
However, an NCR certificate issued by the Shanghai Notary Office will indicate that the foreign applicant has no criminal record during his stay in China, covering the whole territory of China.
Documents required for NCR application
Passport
If the applicant's passport has been updated recently, the old passport covering the period of stay in China will also need to be provided.

Registration of temporary accommodation for foreigners
This document is issued by the Public Security Bureau and shows their registered accommodation.

Relevant Certificate

Those who work in China need to provide a work permit, and those who study in China need to provide a graduation certificate.
If the applicant is an accompanying family member, it is necessary to provide the relative certificate of the employee, such as a marriage certificate and birth certificate.

*In case of this being entrusted to a third party, the power of attorney and the identity card of the agent shall be provided - here's an example of consent for power of attorney:




(Please consult the notary office or agency for details about power of attorney)
Processing time
The processing time for a non-criminal record certificate is generally 15-20 working days, excluding mailing time.
Please consult the corresponding notary office for non-general information.
What could lead to the failure of the application?
The Following conditions will lead to failure to apply for your non-criminal record certificate in China:

1. You have gained a criminal record during your stay in China

2. You have not registered the registration form of temporary accommodation for foreigners during your stay in China with the local PSB

3. You have been in China for less than 6 months in terms of tourism, business negotiation, exchange, participation in academic conferences or short-term exchanges in schools
Examples of the NCR certificate in English and Chinese
Here are a couple of examples to give you an indication about how your NCR certificate should look once produced: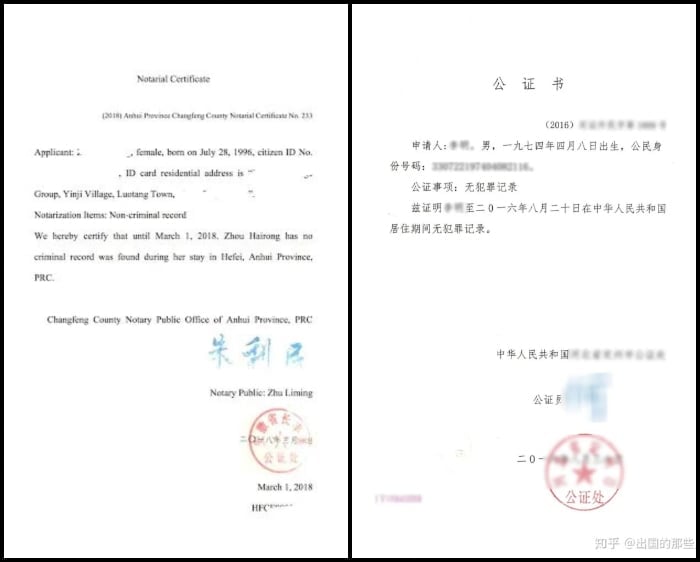 Need help or have questions?
Hongda can help you with work permit applications and obtaining necessary documents such as this non-criminal record certificate.
Let us know about your situation by clicking below: