Opening a business in China? You'll be given many important documents, not least the new China five-in-one business license. The 'lease registration certificate' is a little-known, but increasingly key document. Let's explore why in this post.
What Is The China Lease Registration Certificate?
In China, as in most countries, when you lease a property, either for your business premises, or your own home,you'll sign a lease rental contract.
What you may not know is that in China, this lease rental contract is not seen as legally binding in the eyes of the law.
The official proof of a lease rental is the 'China lease registration certificate,' which is a large red certificate that looks like this: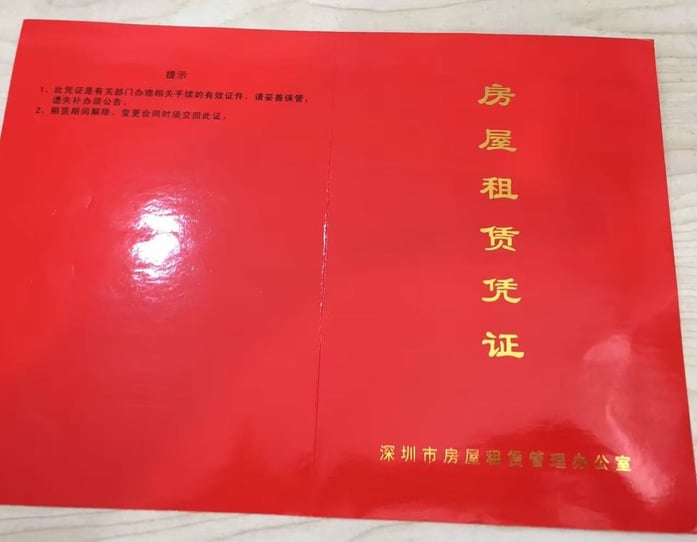 Why Is This Certificate Important To Businesses In China?
It is official proof that you have an official rental agreement.
For example, if you had a dispute with your landlord and ended up in court, without this certificate it is unlikely that you would win, as your relationship would be seen as void.
While it is possible that many rental relationships before now have run smoothly without the landlord providing this certificate, it is being recognised by the government as being crucial now.
What If My Landlord Didn't Give Me This Certificate?
When arranging your lease rental contract you should agree with your landlord to provide the certificate. They can, and so they should. Do not accept their 'assurances,' or that 'it's too much bother.' It has become such an important document for China company setup that it should be a deal-breaker.

Focusing On Shenzhen
We're based in Shenzhen, and know that as of the 27th November 2017, this certificate is now mandatory when opening a business in Shenzhen.
If you're in Shenzhen, or looking to open a business here, then this affects you now. Regardless, in the rest of China, you should also seek to obtain this certificate, because it is official proof of your rental agreement.
Here are the facts:
You need to rent a business premises before opening a company in Shenzhen (and all of China)
You need to provide this certificate from your landlord to SAIC as part of your company registration documents
You will also need this certificate to open your business bank accounts (both registered capital and RMB accounts)
This now applies to the QianHai special economic zone (where previously regulations surrounding registering companies there were looser, they have now been brought into line with the rest of the city of Shenzhen)
Any foreign staff that you employ in China should also be aware that they should be given this certificate from their landlord for their apartments too (for the sake of their future security).
Need Help With This, Or Other China Company Setup Issues?
Get in touch with our team and we can help consult you on how to proceed.
***
Have you already obtained your China lease registration certificate? Was it easy? Did you need to use it for opening a business in China?
Please share your experiences, and questions, below, and we'll be pleased to respond.
---