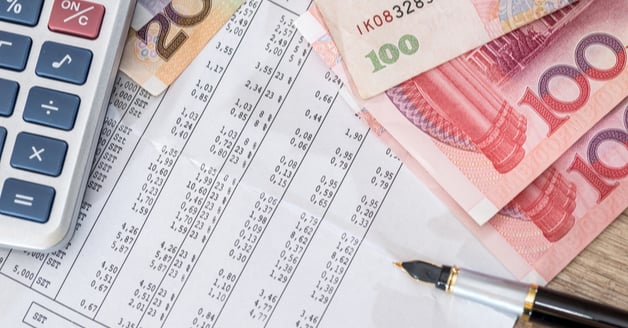 Doing business in a foreign country is never easy, and the same goes for China. China's accounting standards are very different from the global standards that you are probably familiar with.
One key difference is China's 'fapiao' system. Fapiao are tax invoices provided to customers upon purchasing a product. All companies operating in China must purchase the software and devices that are authorized to print fapiao.
As you would expect it is mandatory for all foreign enterprises operating in China to comply with statutory annual audit and other compliance processes, as stated by PRC Company Law. When preparing annual financial reports, all foreign companies are required to follow the Chinese Generally Accepted Accounting Principles (GAAP). Though China GAAP is 90% similar to IFRS, there are minor discrepancies between them that make it difficult for foreign companies to understand.
Why Cloud-Based Accounting Software?
Whatever compliance or strategic financial reporting issues you are trying to solve in China, using a cloud-based accounting system correctly will not only save you huge amounts of time but probably save you either in-house labor or third-party accounting costs compared to using Excel spreadsheets – a common practice in China.

In addition, cloud-based accounting synchronises business activities with the accounting system, provides out-of-the-box reporting, and can be a big help for foreign companies looking to consolidate global accounts. If chosen correctly, it can allow you to track fapiao's with much greater efficiency and accuracy, helping avoid costly mistakes.
Top Cloud-Based Accounting Software in China
Many popular western accounting software are not available in China. The few that are, such as Quickbooks, are quite weak in addressing China's GAAP and fapiao system. While Quickbooks does have a China version, one of the main issues you will face is your migration path. You will not be able to migrate directly from QuickBooks Desktop to QBO Global version. A 3rd party conversion service is needed. As a result, it's best to choose local accounting software.
Here is a roundup of our top accounting softwares to use in China.
1. Kingdee KIS
Kingdee KIS is a leading brand of Cloud-based management software for small and micro businesses in China. They offer a one-stop solution integrating real-time inventory, production, sales, procurement and store management, helping businesses to ensure effective internal management. Kingdee accounting software currently has 3 main versions, each with different pricing and features:
KIS mini version:
The KIS mini version is suitable for start-ups with simple financial accounting needs. It can only be used in one computer office and the software cannot be used on multiple computers. There is no fixed asset management module and salary management module.
Price: RMB 2000
KIS standard version:
The standard version is aimed at growing enterprises that require a higher level of precision in their financial accounting processes. It can be installed on multiple computers.
Price: RMB 3500 ~ 4000
KIS Professional Edition:
In addition to the features on the KIS standard version, the KIS professional edition also specialises in production and sales operations in the industry and trade sector.
Price: RMB 4000 ~ 7000
2. Yonyou (用友)
Yonyou provides services for enterprises in accounting, treasury management, and financial services. Like the other two accounting software products, Yonyou is designed with Chinese accounting standards and practices in mind, facilitating the preparation of China GAAP compliant tax reports.
Unlike Kingdee which is catered to smaller businesses, Yonyou is more suitable for medium to large size businesses. Their software has more complex enterprise-level functions. Three of the key features are identified below:
Smart Accounting System - Provide end-to-end one-stop accounting service and connection service.
Smart Financial Services - Provides multi-purpose automatic accounting, real-time integrated financial data analysis services
Electronic Accounting Document Service - Provide electronic archiving, storage, inspection and other services for accounting files.
There are 2 main versions of Yonyou accounting software as shown below:
Price:
G3 financial management system V11.0: RMB 4980 - service fee is charged at 20% of the product quote every year
G6 financial management system V12.1: RMB 14000 - service fee is charged at 20% of the product quote every year
For more information on Yonyou accounting software, click here.
Accounting Software Cost Comparison Table
Use the cost comparison table below to compare the latest prices for top accounting software in China for your WFOE:
Accounting Software in China
Versions
Price

Kingdee KIS

KIS mini version

RMB 2000

KIS standard version

RMB 3500 ~ 4000

KIS Professional Edition

RMB 4000 ~ 7000

Yonyou (用友)

Yonyou G3 financial management system V11.0
RMB 4980 - service fee is charged at 20%
Yonyou G6 financial management system V12.1
RMB 14000 - service fee is charged at 20%
Which accounting software is best for you?
The best accounting software for your company will depend on the size of your business, your needs, and your budgeting requirements. If you are debating which accounting software to use in China, it may be best to sign up for the free trials so you can see for yourself whether the accounting software has the features you need, is easy to use and saves you time.
If you require assistance on tax and accounting issues in China, our experts at Hongda can meet with you to discuss and assist in regards to your company's accounting situation and needs, explain the services in greater detail, and suggest the best plan of action for you.