Doing Business in China? Shenzhen's Qianhai, the perfect place for e-commerce

The Qianhai Special Economic Zone is a commercial development in Shenzhen that is set to become a major regional center of the modern service industry. The zone encourages a number of future leading industries that include:
Finance

Modern logistics

Information services

Technology

Consulting and management

E-commerce
E-commerce is certainly one of the industries that is flourishing, with Shenzhen becoming a pilot city of a national scheme to develop cross-border e-commerce that started online exports in November 2013 and online imports in September 2014.
The industry has experienced some exponential growth, most recently in Qianhai, thanks to the increasing demand from the Chinese for quality overseas goods. The zone's close proximity to Hong Kong makes it the ideal ground for developing cross-border e-commerce, and the latest figures on this growth tell a big story that companies planning on doing business in China must take heed of.
Join us as we take answer: "What is QianHai," take a look at e-commerce in the zone, and pinpoint just what makes it the 'perfect' place for this type of business in China!
The e-commerce industry within Qianhai special economic zone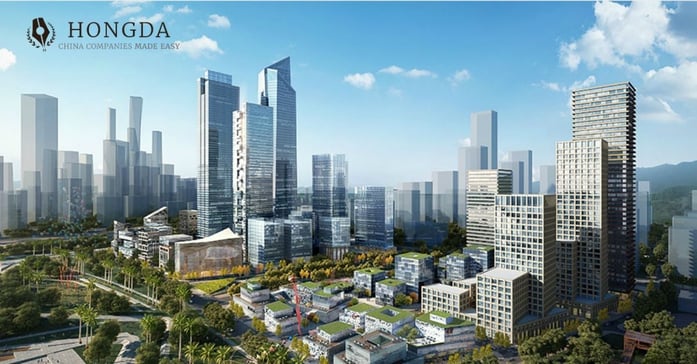 The Qianhai Bay Bonded Port Area, an area uniquely placed to benefit from the special functions of a free trade port zone and the preferential policies of the Qianhai special economic zone itself, was chosen by the city to implement the pilot scheme, and the total imports and exports of the cross-border e-commerce business amounted to about $133 million in just the first 10 months of this year, four times the total of last year's haul.

Official figures show that more than 4,000 e-commerce companies had registered in Qianhai by the end of October. Of these 4000 companies, about 160 of them have registered with customs to conduct online exports and imports, doubling the number in the first half of this year.

According to Liu Xiao, director of the bonded zone management sector of Qianhai Authority, cross-border e-commerce would eventually generate industrial output of more than 100 billion yuan.
These staggering figures are a testament to China's growing infatuation with purchasing goods online. People are becoming more accustomed to the convenience and affordability of the online shopping experience with yearly sales such as Single's Day. The great thing about Qianhai is that goods stored in warehouses in the zone enjoy a lower tax rate of 10-20%, as opposed to the general tax of 30-50%, ensuring that one can always get the highest quality international products they want, at the lowest prices!
>> Tweet the benefits of QianHai to your followers <<
A cross-border shopping center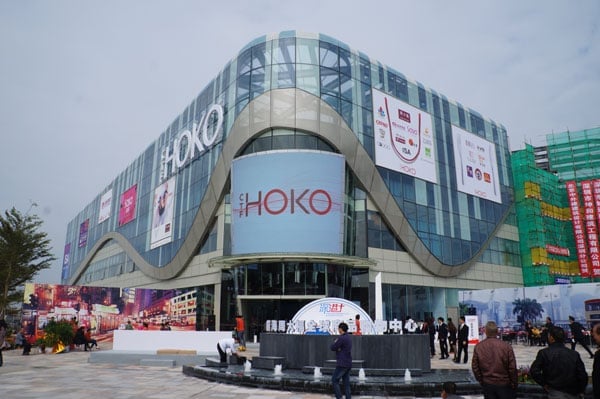 Image source: ChinaDaily Asia
Whilst online shopping has truly become a massive industry within China, and particularly in Qianhai, a lot of people do still prefer traditional brick and mortar stores when it comes to the 'real' shopping experience. This is an area where Qianhai has risen to the challenge once again, and the zone has done so with the establishment of The Qianhai (Hong Kong) Global Shopping Center.
The shopping complex is a four floor cross-border shopping haven that covers around 20,000 sq m of retail space and has more than 200 parking spaces. Shoppers that would like to try before they buy are able to visit shops, 70-80% of which are stocked with goods from Hong Kong, and take a closer look at what's on offer before being led to pay for the goods online by scanning a QR code in-store, and have their goods delivered to them 2 days later.
The prices of goods within the complex are very competitive with that of prices in Hong Kong, or even lower.
Image source: ChinaDaily Asia
This will certainly be very attractive to those that want to skip on the commute to Hong Kong, and bring Shenzheners that much closer to Hong Kong.
Advantages for e-commerce companies
Cross-border e-commerce in The Qianhai special economic zone is truly set to take off with its relatively low tax rates and its shopping complex. It presents local and foreign companies interested in starting a business in China with quite a few distinct advantages when it comes to the e-commerce business that includes:
The very nature of The Qianhai New District lends itself to the fostering of future leading industries such as finance, modern logistics, information services and technologies, which will all inevitably support the continued development of e-commerce within the zone.

Shenzhen is China's leading import and export hub, and as such it has developed a fast and convenient system for handling foreign trade. The customs, quarantine, tax and foreign currency settlement in Qianhai are very efficient, ensuring that a company's e-commerce business can run smoothly.


Qianhai's location allows it to take advantage of the world-leading transport networks in Shenzhen and Hong Kong, which are located within 30 km of the zone.

Qianhai promises to have Hong Kong standard telecoms and internet speeds, making running an IT company much more efficient and simple than in other areas of the Mainland
>> Tweet the benefits of QianHai to your followers <<
Are YOU considering opening an e-commerce company in China?
Does QianHai sound like an attractive location for your business? What makes it so compelling?
Let us know any questions or issues you may have on the QianHai zone and any other aspects of doing business in China by leaving your thoughts as a comment below...
---