Guangdong and the GPRD
Widely known as one of China's leading economic regions and a major manufacturing center located in the Southern Chinese province of Guangdong, the PRD gets its name from China ́s 3rd longest river (after the Yangtze and the Yellow river), and the entire zone is formed by 9 cities, namely Guangzhou (the provincial capital also known historically as Canton), Shenzhen, Foshan, Zhuhai, Jiangmen, Zhongshan, Dongguan, four districts and counties of Huizhou and four districts and counties of Zhaoqing.
Collectively the region is a colossal economic powerhouse that overtook Tokyo as the world's largest urban area in terms of both size and population earlier this year, and is now home to more people than the countries of Canada, Argentina or Australia.
The GPRD is a money maker of note and is set for further, significant growth and wealth creation as seen below in a slide from a HSBC report.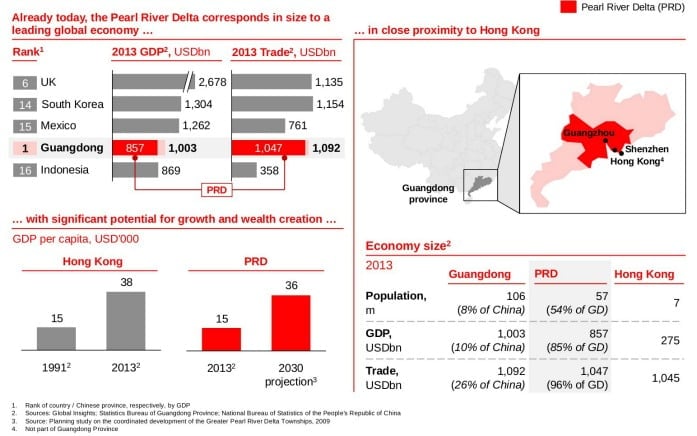 The growth and investment in Guangdong alone is that of a leading global economy, where there are a bunch of new SEZ (Special Economic Zones) namely QianHai, Hengqin and Nansha, and closely supported by the Special Adminisitrative Regions of Hong Kong and Macau, which make up the GPRD (Greater Pearl River Delta) region.
In this two part blog we will take a closer look at cities found within the GPRD, their significance in the region, their industries and why foreign businesses should look at investing in them when planning on doing business in China. In part one we will be covering the cities of Guangzhou and Shenzhen.
Let's do this...
1) Business in Guangzhou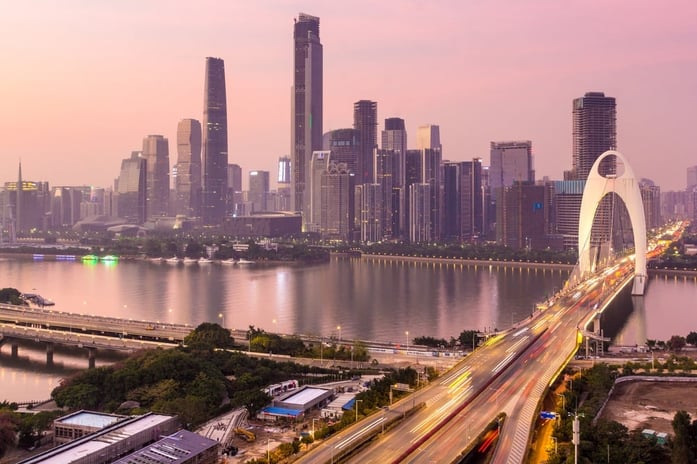 Guangzhou is the capital and largest city of Guangdong. Guangzhou, much like neighbouring Shenzhen, was one of the very first cities that benefited from the Reform and Opening Up policy that China passed in 1978, and positioned it as one of the pioneer cities of economic development in the country, bringing with it numerous enterprises and opportunities which make it the heavily populated city it is today (13,080,500 as of 2014).
Although until recent history China was relatively closed off to the rest of the world, Guangzhou, or Canton as it was known, remained open as one of the sole trading posts between Western sea powers and Imperial China as has always been the way for 2,000 years!
This sprawling mega city is a business force to be reckoned with in the region, its manufacturing industries comprising mainly of Auto and parts, textiles, garments, transport equipment and chemicals. It is home to hundreds if not thousands of factories and production lines that have given it its name of "Work shop of the world".
The largest biannual Chinese trade fair, commonly known as Canton fair, is held at Pazhou, on the outskirts of Guangzhou city. The trade fair has been held in the spring and autumn seasons each year since the spring of 1957. Over fifty product trading categories, being composed of thousands of China's best foreign trade corporations (enterprises), take part in the fair. These include private enterprises, factories, scientific research institutions, wholly foreign-owned enterprises, and foreign trade companies. Attending the Canton fair is a must for anyone considering doing business in China.
The city has a huge expat community, with numbers totaling 118000 as of October 25th 2014. Many expats come to Guangzhou to take advantage of its bustling manufacturing sector and source a wide range of products to export back to their native countries. Foreigners can get into trading in just about everything including hardware, leather, electronics, construction materials and more.
As home to many of South China's consulates, it is also a centre for foreign diplomats.
Guangzhou is truly a city rife with business opportunities for those willing to set up shop in the PRD. It is in very close proximity to another giant of the PRD, and our next city, Shenzhen.
2) Business in Shenzhen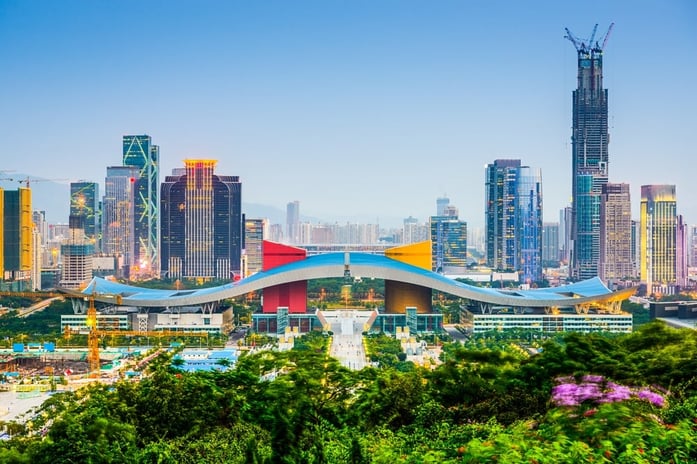 The story of Shenzhen is one that in terms of its size and growth is almost too unbelievable to be true. Approximately 140km from Guangzhou, the youthful city of Shenzhen was established a mere 35 years ago and was this year named as the most competitive city in China for business.
The city was also one of the very first to benefit from the Reform and Opening Up policy, and it was this policy that allowed it to transform into a Special Economic Zone, with its many preferential tax polices and government incentives that has helped make it one of the prime places for doing business in China.
Shenzhen is known for its innovative tech industries and is home to some of the biggest tech companies in the world, namely Tencent, ZTE, Huawei and TP-Link. There are tech and industrial parks solely dedicated to further innovation in the sector, with with its high-tech industry's added value reaching 517. 349 billion RMB in 2014, representing an increase of 11.20% that was 2.8 percentage points above the growth rate for high-revenue industrial enterprises.
It is a prime location for foreign businesses, with the newly established QianHai Zone leveraging its location within Shenzhen to strengthen the cities ties to Hong Kong. This area provides an extremely attractive investment platform for those looking to take advantage of the many preferential policies that have made Shenzhen the foreign friendly business place it is today.

There are also tons of exhibtions held throughout the year for just about every product one can think of, drawing in tens of thousands of visitors from all over the world. Within its very short existence, Shenzhen has surpassed the expectations of many naysayers, and goes to show just how far one city can go with the right backing and leadership.
That's it for now for these two mega cities!
PS. Remember to read part two of this blog, where we will take a closer look at the cities of Zhongshan, Zhuhai and Hong Kong.
---