China takes things 'step-by-step,' not rushing into huge and sweeping changes. That's why when the new '5 year' plan was announced on March 15th 2016, those that are planning on undertaking China company registration must sit up and take notice.
Why?
China is in the midst of reforming its financial systems and economy, meaning that certain industries will be particularly welcomed as the government seeks to encourage foreign investment in these fields, foreign talent and knowledge to China, and foreign startups to choose to base themselves here.
KWM.com has published an interesting post and infographic about this plan, so let's take a look in more detail at the 13th 5 year plan's potential impact on businesses who're looking at China company formation in this post...
How Does The New China Five Year Plan Affect Your Business?
According to KWM highlights include:
A continuing emphasis on the opening up of the financial markets, coupled with regulation and reform.
Innovation, fintech, big data and internet+ get another big push.
Infrastructure, both domestic and along the "One Belt One Road", continue to be a focus, with an increased emphasis on sustainability.
Health and aged care also get increased attention as China aggressively seeks to lift the quality of life of its people and care for its ageing.
The China five year plan also focusses strongly on other sectors, including agriculture, manufacturing, education and the environment.
Source: www. KWM.com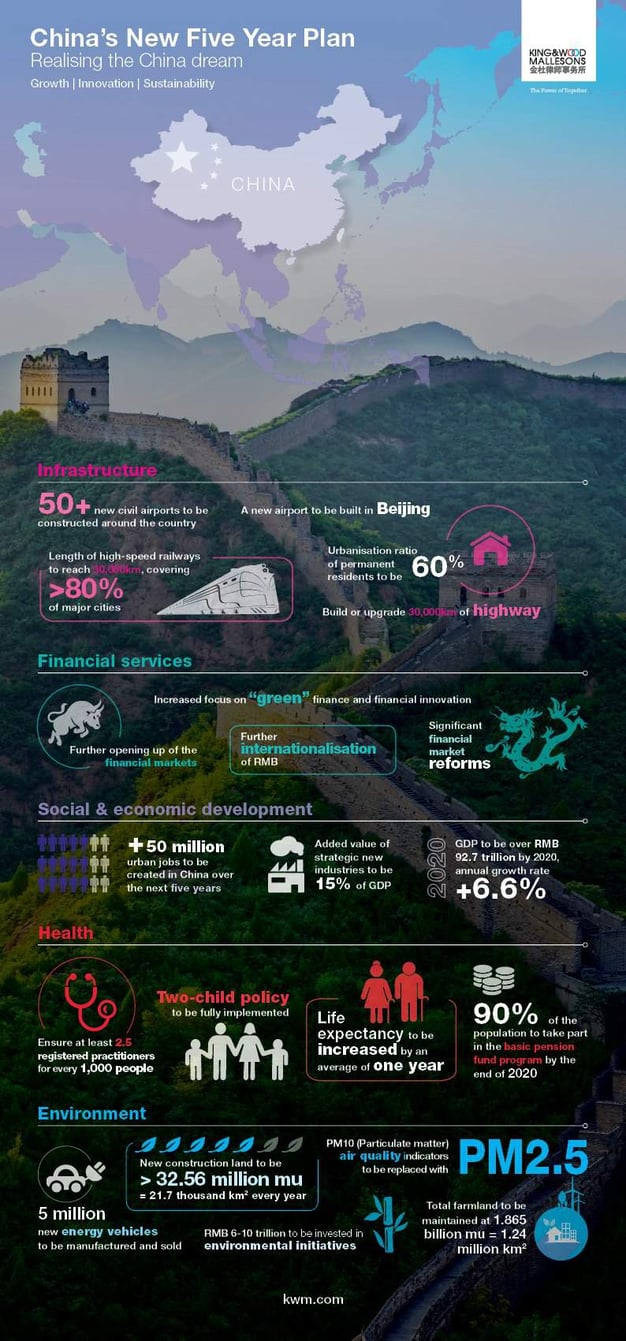 Key Takeaways From The China Five Year Plan For Foreign Businesses
Whilst it is great to see that the government is prioritising the health and elderly care of its people, there are some key takeaways that businesses can glean from this infographic.
China isn't for every business, and many have been predicting the demise of its 'old business model,' that is to say, manufacture of cheap products and resources. If that's your game, then you may be better off looking at South East Asian neighbours such as Vietnam to fulfill those needs.
Soif that's the case, which businesses should be looking at China company formation in 2016?
China Wants You!
The new China five year plan puts emphasis on the following industries:
Financial
Insurance
Securities
R&D
High Tech manufacture
IT
Internet
Logistics
Green technology
If this applies to you then you may find that China's huge market of 1.4 billion consumers, or mature manufacturing and export infrastructure will suit you.
Not to mention that the government are giving foreign businesses many benefits, such as generous tax breaks, in areas like the QianHai Special Economic Zone in Shenzhen in order to encourage them to think about China company registration in 2016.
Boost For Health
Although the foreign health industry isn't exactly mentioned as a priority, the government does want to increase medical standards, R&D, bring in national fitness initiatives, and enhance food safety.
Is your business related to these?
Perhaps foreign health practitioners will become ever more welcome, remunerated, and common in China in the coming 5 years as they seek to increase knowledge and standards?
Perhaps foreign medical equipment manufacturers will be offered special benefits to choose China as a base?
>> Tweet this infographic to your network <<
Your Thoughts?
What do you think about China's new direction?
Does its emphasis on internet, service industries, and finance suit your business?
Are you thinking of undertaking China company registration in 2016 or beyond? If so, what concerns or puzzles you?
Please leave your thoughts as a comment below for our community, and we'll be pleased to answer any questions that you may have about China company formation and anything else besides.
---