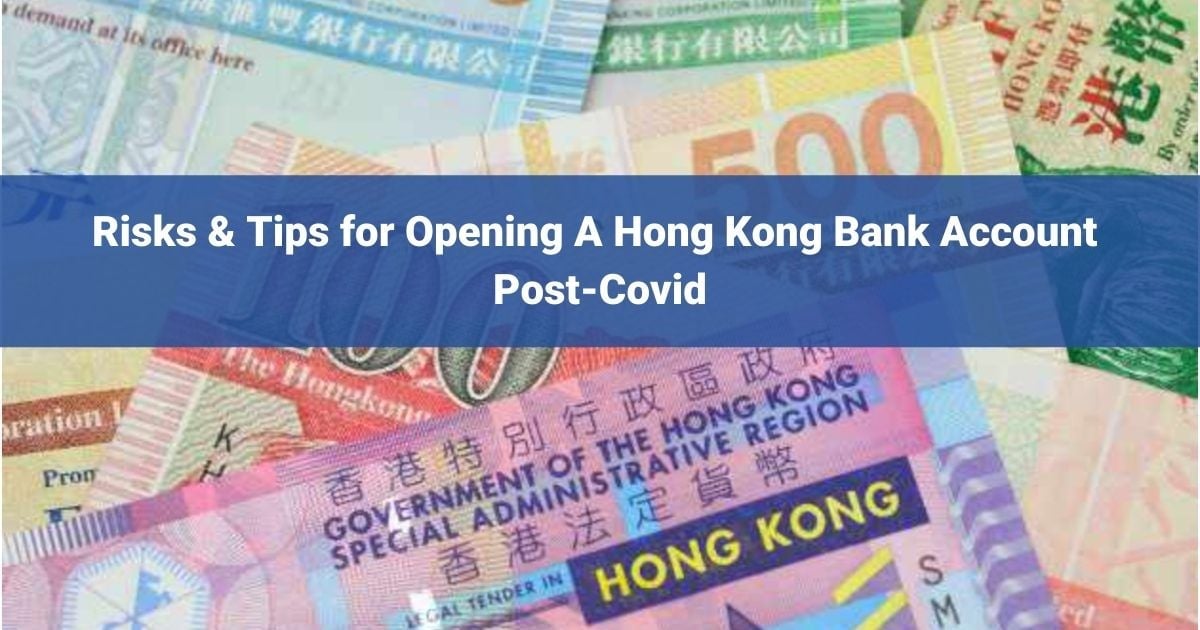 Let's say you have a WFOE in China and you now want to open a Hong Kong company and business bank account for it. This has been quite challenging in different ways since around 2012 when stricter anti-fraud measures were introduced in the HKSAR territory. We already discussed some of the challenges here.
The Covid pandemic has made dealing with China, Hong Kong, and Asia, in general, more difficult, especially for foreign investors who're based abroad, say, in the USA or Europe.
It is still possible to open a new HK bank account, though, and I'll explore how to do so here...
Opening a new HK business account...easier said than done
Opening a Hong Kong business is one thing for foreign investors who are already running a Chinese company, but a regular thorn in investors' sides was also opening a bank account afterwards, without which the company isn't able to operate properly.
Here are a few points that catch new investors out:
Your new HK company doesn't come with a bank account by default
You may need to provide a lot of unexpected information about your domestic business that's affiliated with the HK company
Bank accounts may be frozen or even closed with little warning
It's not uncommon for the first application to open an account to be rejected by the bank
But despite this, it's still possible so keep going!
Some advice that can help you open or keep your account
These tips can help you prepare to open your new account.
Prepare the right information about your Chinese business and shareholders in advance
The HK company is a new entity, so it follows that the bank can't know much about it. It hasn't been operating, having income and outgoings, customers, etc.
So for this reason they'll want to know a lot about your existing foreign affiliates, such as your Mainland Chinese company. In addition, they'll also want to take a close look at the background and work history of the investors.
If the HK bank can see that you have been legitimately operating, paying tax, etc, in China, they can make the assessment that it's safe to open your new bank account as the funds you'll be depositing are genuine.
The bank is likely to check the following, so make sure that this information is correct:
That the shareholders of both the PRC and HK companies are consistent
Shareholder or legal representative proof of relationship if they have close family (documents like a wedding certificate, Hukou, etc)
Proof that you're doing legitimate business, such as invoices, purchase orders, evidence of your online store's activity, shipping notes, etc
Employee employment contracts, social security documents, etc, that show who is employed by the PRC company and their identities
Overcoming a bank account application rejection
In the event that the bank rejects your first application, which is not that uncommon by the way, there are steps you can take.
Confirm what other documentation and information is specifically required - the bank may not initially be clear on this, which is unfortunate, so press them to tell you what they need and then you can obtain this.
You gave vague answers about your PRC business status - this will be a red flag to the bank manager who will seek more detailed information before allowing the account to be opened. So, in this case, do you have very accurate answers? 'Winging it' is not going to serve you well.
In these situations, you can see that prior research and preparation can help avoid a rejection, however, if it does happen it is reasonable for you to ask the bank to explain clearly precisely what information they need from you and you will have the opportunity to go away and find it so your next application is a success.
Reasons for accounts to be frozen or closed
You can't satisfactorily explain the source and destination of the funds they see - this will worry the HK bank that you are engaging in money laundering. We're sure you aren't, but if the bank manager can't be sure of your intentions and legitimacy this is a major red flag for them.
You deal with sensitive countries, such as North Korea, Russia, and Iran. The bank will have a list of countries that it won't deal with, oftentimes this is because they engage in wars, criminality, smuggling, and other behaviors that are likely to land the bank in hot water.
You simply do not use the bank account for some time. HK banks are well-known for freezing unused bank accounts to save their own management resources. In the case of a post-pandemic world, some businesses that opened a Hong Kong company for a specific purpose perhaps stopped using the HK company for a period of time during the pandemic, but that may mean that your bank froze your account in the meantime due to a lack of activity. The same fate may happen to account holders who don't reply to the bank's requests for information (maybe because they forgot or missed a letter, etc).
Learn more about account closures in this post: Hong Kong Business Bank Account Closure: Why and How to Avoid It
What else can you do to successfully open your account?
Every bank is different, but we have found that many banks there may request to see original copies of the following documents:
Company director's passport
PRC company annual return (your accountant can provide this)
Residential address proof of director/legal rep
Also, bear in mind that the bank manager will look more favorably on businesses that can show that they have a stable cash flow, audited bank account, and active business relationships.
Need help?
Our Hong Kong business experts have lots of success with selecting the right Hong Kong bank to assure your account gets opened with the minimum of hassle. If you have questions, get in touch before making an application that may be rejected for reasons you weren't aware of.
We can also help you open your new HK company, too, and that includes support to open a bank account: