Stay on top of your WFOE application
Foreigners wondering how to start a Chinese company have quite a few business vehicles to choose from, each with their own pros and cons, with one of the more common platforms the Wholly Foreign Owned Enterprise (WFOE).
A WFOE is unique in that it is a totally foreign owned entity and limited company that can operate like a normal company in China. This type of company is one of the more popular platforms as it allows owners to make profit and invoice customers, to better protect their IP and requires no minimum amount of registered capital when forming one.
It is with this purpose in mind that Hongda Business Services created a handy checklist to help you through the process. Take a look at what our checklist offers you below...
Benefits Of A Wholly Foreign Owned Enterprise
A WFOE offers foreign businesses a level playing field in China. They're able to trade and operate in exactly the same way as a local company would be, but without the risk of needing to go into business with a local partner (who may not always agree with you or support your plans) hanging over the company.
It offers:
Foreign owners complete control of their own business
The ability to hire low cost local staff

The ability to hire foreign staff in China

Easier protection of intellectual property
Profits which belong to the company alone
Profits which can be remitted abroad
Business license valid for 15-30 years
So running this type of company in China is obviously attractive for foreign businesses, but it's also quite difficult to set them up alone for many reasons...
Why Use The WFOE Checklist?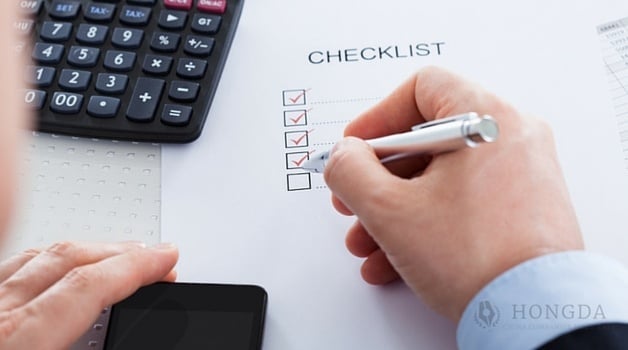 When it comes down to registering a WFOE in China the application process may prove to be somewhat lengthy if one goes at it alone.
Foreign companies will commonly encounter these issues:
Not understanding how to start a Chinese company leads to delays in getting your WFOE open through missing certain documents, etc
The language barrier is extreme, as forms must be filled in Mandarin Chinese
Different cities and regions in China can have different requirements for their company registration process which can catch you out
Mistakes will be punished and can leave you with a new company which has poor standing with the authorities
Using the WFOE checklist mitigates all of these potential issues, as it gives foreign companies who may not be familiar with how to start a Chinese company a helping hand. Think of it as the guide rails at the bowling alley if you will.
Follow the steps, and even if you don't speak and read Chinese, you won't make any mistakes and will still get together the exact information that you require to make a successful application.
>> Tweet this helpful checklist to your network <<
This English checklist will help you to:
Prepare the documents you'll require in advance and save you time

Better understand the whole registration process so you don't go in blind

Track everything that has been submitted and everything that still needs to be so you don't miss a thing
Cut through murky Chinese bureaucracy and confusing language, as everything is laid out in English for you
Understand the time frames involved with opening your WFOE
Speed up the registration process so you can get started with your business as soon as possible, because that's what really matters
Ready?
Hongda Business Services has outlined everything you'll need as well as the process you're going to be following in this FREE WFOE Checklist. It's as easy as printing it out and ticking off the entries as you complete each step.
Click below to get your hands on your checklist!