Starting a Business in China the Right Way!
When it comes to registering a company and doing business in China's PRD (Pearl River Delta region), or anywhere else for that matter, there are a number of options available to foreigners (and locals) looking to leverage the regions strategic position, cheap labour and rent, preferential tax policies, financial incentives and so on.
The formation of these different types of companies all come with their own unique features and advantages, some better suited to different types of industries than others, and even some that come with their own set of drawbacks that may hamper a company's growth.
That is why it is important for business owners to do some homework before booking their tickets to the promised land.
In this blog we will take a brief look at the different types of companies which can be set up in our home region of the PRD (Pearl River Delta) in Guangdong province, a short description of each, and some of their benefits and drawbacks.
This will help give everyone out there looking to bring their business to the South of China a better idea of which type of company will help them achieve their dreams!
Let's get right to it...
How to Decide On the Chinese Company That Will Suit Your Business?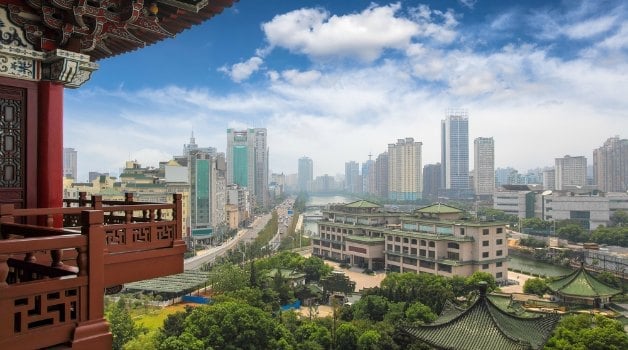 Before you can decide which company is going to provide the best platform for your business to succeed in China, you must understand the features of them all. With those in mind you will also find that downloading our FREE China company comparison table, where each company's features and benefits is laid out clearly, is useful too.
Without further ado, let's take a closer look at the company types you may open, and one step closer to running your business in South China.
1) Qianhai company in Shenzhen's Qianhai Zone
The first type of company is also the newest to be introduced to this region, it is the Qianhai company set up. ThisShenzhen-Hong Kong Modern Service Industry Cooperation Zone based in Shenzhen's Qianhai Zone is aimed at strengthening ties to the bordering areas Macau, Guangzhou, Guangdong, and most importantly Hong Kong.

Its prime location lends itself to helping domestic and foreigner companies alike attract and leverage expert talent, take advantage of strong financial incentives and infrastructure, low taxes and cheap rent that come with the deal.
Essentially, aside from being in QianHai, the company types are the same as elsewhere. Namely: WFOE, Joint Venture, and Rep office.

Setting up a QianHai company is, however, not really suitable for non-service related industries (as the benefits of the zone are generally geared towards encouraging these types of business. The location means that setting up in the zone will require business owners to be based in Shenzhen, so it may not be suitable depending on the preferences of each owner and busines type.
2) China WFOE
A 'Wholly Foreign Owned Enterprise'is a totally foreign owned limited company based in China. Registering of WFOEs has become one of the more popular ways of setting up shop in China in recent years, and is a viable option to more industries than what the formation of a QianHai company is suitable for.
Owing to the fact that a WOFE is totally foreign owned, there is no need for reliance on Chinese partners, giving owners more freedom to make company decisions based on their and the company's best interests. This also allows for greater protection of one's IP (intellectual property), the additional hiring of foreign staff and the issuing of work visas.
On the flip side, they are difficult to set up without assistance and may require a signifcant amount of capital investment to get things going. Different areas in China come with their own set of rules when it comes to setting up this company type, so it may prove troublesome depending on where one decides to settle.
3) Hong Kong Company
Long seen as the easier alternative for foreigners looking to register a company in the East, a Hong Kong company is also the stepping stone to making inroads into China. The formation of this type of company is a lot easier than the ones mentioned above and takes just around 2 weeks to set up.
Owners of a Hong Kong company are required to invest as little as HK$10000 and can enjoy all of the Western systems that the uniquely placed business hub of the East has to offer such as its legal and banking systems, modern infrastructure and no need for a physical office (or to live in Hong Kong).
Due to the fact that it is a less involved procedure than the other types of company formation, a Hong Kong company has little to no drawbacks for anyone looking for a quick set up on this side. They unfortunately do not secure the issuing of work visas to foreigners looking to live, work and stay in China, until they are used as the platform to register a WFOE.
4) China Representative Office in Shenzhen
A representative office in China, or rep office, acts as a local presence in China for a foreign company. A rep office can be registered just as easily as a Hong Kong company, its formation allowing a foreign parent company to conduct business meetings, perform quality control, promotion of products or services, and market research on the Mainland.
Having a physical presence in China helps companies with rep offices to raise brand awareness in a country they are selling in, liaise with local contacts more easily and efficiently and conduct better market research for the parent company.

Rep offices alow companies to have a presence, but they do not entitle companies to buy any property, conduct any business that results in a profit or store products in a warehouse to name a few of its drawbacks.
5) Joint Ventures in the PRD/Shenzhen
Joint Ventures in this region were the go to for foreign and Chinese companies before the introduction of WFOEs back in 2001. China recognizes two forms of Joint Venture partnerships between foreign and Chinese firms, namely Equity Joint Ventures and Cooperative Joint Ventures, where CJVs has two versions, limited and unlimited liability
The formation of these companies provide both parties with the unique opportunity to gain new capacity and expertise, greater resources, new technologies, the abililty to enter related businesses and new markets, as well as, and perhaps most importantly, the benefits of sharing risk with a venture partner.
Joint Ventures offer a lot of opportunities, but they may also come with a few drawbacks such as the possibility of an imbalance in level of expertise shared, the problems associated with differences in culture or management style and all of the risks that may be brought upon this.
That brings us to the round up of the different types of companies foreigners can look to register when considering the Pearl River Delta region in the South of China.
Each of them comes with their own pros and cons and deciding which of them can be managed more effectively is the key to helping one's business thrive on this side!
What type of company are you thinking of opening here? When do you plan on starting a business in China, and in which industry?
Do you have any concerns, questions, or experiences to share with our community?
If so, please leave a comment below and we will get back to you ASAP!
---