Nearly ⅓ of WeChat official accounts are doing some form of e-commerce, with an estimated 898 Million users we look at why your business in China should be on WeChat.
Not only is WeChat China's largest and most dominant social network, but has also been pushing their international expansion, especially in Africa, and is currently Africa's fastest growing social communications platform. But let's put Africa aside for now and look at why you need WeChat for business in China.
What is WeChat?
WeChat was launched in 2011 by Tencent as a social media messaging app, but calling it, a mere app doesn't do it justice. WeChat is by far China's most popular mobile app, but not just China, WeChat is becoming increasingly popular in other parts of the world according to this article by Reuters.
Aside from the social aspects WeChat also offers a comprehensive e-commerce platform and functions like WeChat Pay and wallet that link to both online and brick and mortar vendors with plans to expand to Europe soon. WeChat can only be described as Slack, Amazon, PayPal, Facebook and Skype all amalgamated into one platform.
WeChat offers:
Text chat

Group text chat

Voice messaging

Video calling (multiple users)

Voice calling

Image messaging

Stickers and GIFs to download

QR code payments

eCommerce

A Variety of languages

Customisable wallpapers

Real-time location sharing

WeChat for your desktop (Windows and Mac)

It's free to use
A Quick look at Statistics
According to China Channel's 2017 WeChat behavior report, at the end of 2016 active users stood at 898 Million, 10 million official accounts and 200k developers.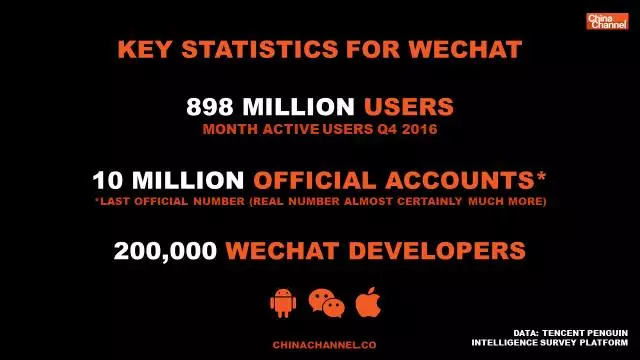 Even more interesting are the number of users engaging on WeChat for business: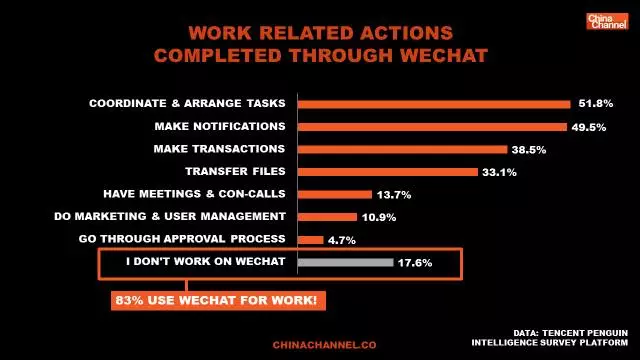 Users are willing to pay for Information on WeChat: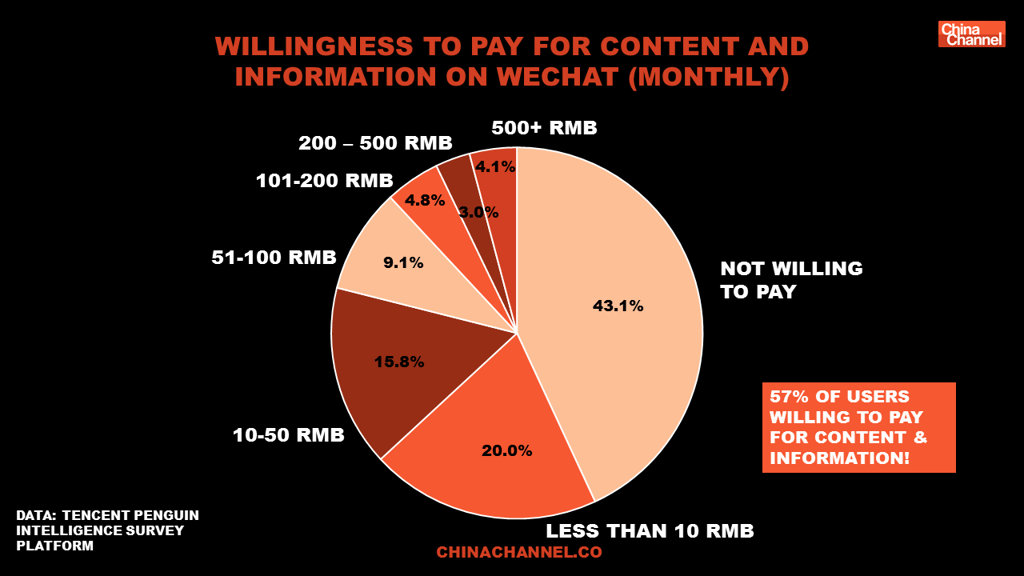 How Can You use WeChat To Enhance Your Business In China?
The WeChat official platform is a promotion and cooperation service suited for businesses of all kinds. The media can use these accounts, government organizations, NGO's, businesses and individuals. With an official account, you can promote your brands through a WeChat channel, to raise brand popularity and reduce overall propagation and build a stronger brand image.
There are three types of accounts currently available from WeChat - subscription accounts, service accounts, and enterprise accounts which are all classified as official accounts.
Enterprise accounts

offer a range of business tools and messaging, but this type of account is currently only available in China.

Subscription accounts

provide you with one broadcast message a day to subscribers. The messages will be sent to the subscription accounts folder.

Service accounts

allow you a maximum of four broadcast messages per month; the messages will appear in the friend session list.

Verified accounts

have access to nine advanced APIs and can easily apply for WeChat Pay.
Businesses that have enough followers, anything more than 100K upwards, are allowed to purchase advertisements and promote their accounts, products or services. It is completely free to register a basic official account with WeChat, however if you want to add your website link in your WeChat posts, you need to get an ICP license first. You can find a comprehensive guide on the registration process here.



WeChat automatically generates a QR code for the registration of an official account. Included in the app is a QR code scanner, which your business can use to get creative with the codes both from within and outside the app.
WeChat can be linked directly to your bank accounts or credit cards. The QR code system provides users with the ability to pay for goods and services by using their WeChat Wallets linked to those accounts (this is similar to Samsung and Apple pay in the West, but actually came first). Although this is well known in China, it's becoming the norm in the rest of the world as well. A good example of progress can be seen in the recent launch of the WeChat Wallet in South Africa.
Magazines such as 'Stuff' are using WeChat to move away from traditional print media for advertising such as flyers and pamphlets, and are using QR codes to match products advertised in their magazine. When you scan the code with WeChat, it takes readers directly to their WeChat Wallet where they can then order the product they were just looking at, and often at a discounted rates as well.
It is worth noting that users can transfer funds, cost-free mostly, between each other, which proves very useful when you have to split a bill with friends.
In a previous blog "Why To Use WeChat When Starting A Business In China" we outlined all the benefits of using WeChat for your business in China. Basically the key to a successful business WeChat account in China lies in the number of followers you can get and to keep growing that number. Driving as much new traffic to your website as possible, which is essentially your company's storefront window online is what you're aiming to achieve. The more followers and likes you get the more business leads you'll get.
However, as easy as this all sounds it will ultimately come down to the quality of the content you put onto WeChat that will make the difference. With the amount of WeChat users in China, the only logical path to go down is to share the best and most relevant content possible on your official account. By providing up to date and informative content, you're much more likely to tempt your audience to click through to your website. Below is an illustration outlining how you could go about attracting new followers in China: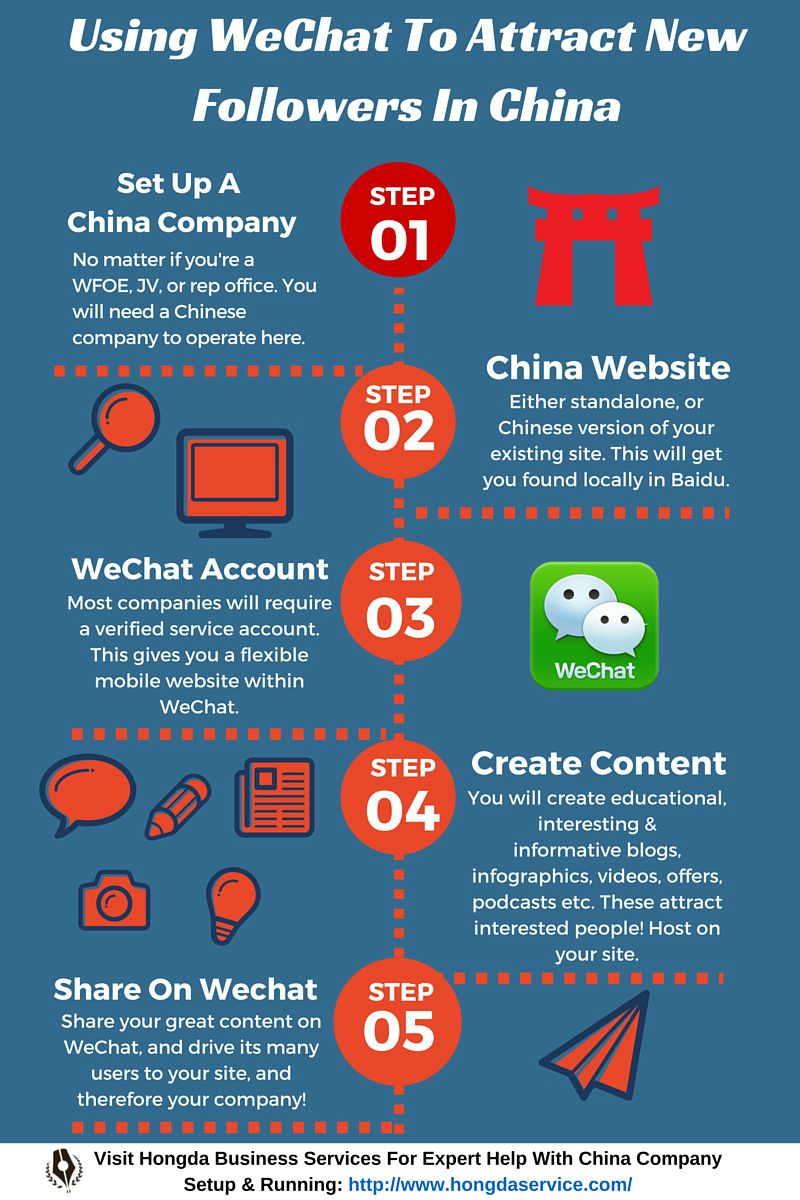 In conclusion, WeChat can be a very useful tool for your business in China, be it to keep up to date with manufacturers in your trade or draw in new clientele for your e-commerce business WeChat's effectiveness shouldn't be overlooked.
Have you ever used WeChat outside of China, or do you use another platform? We'd like to hear your thoughts and experiences in the comment section below.