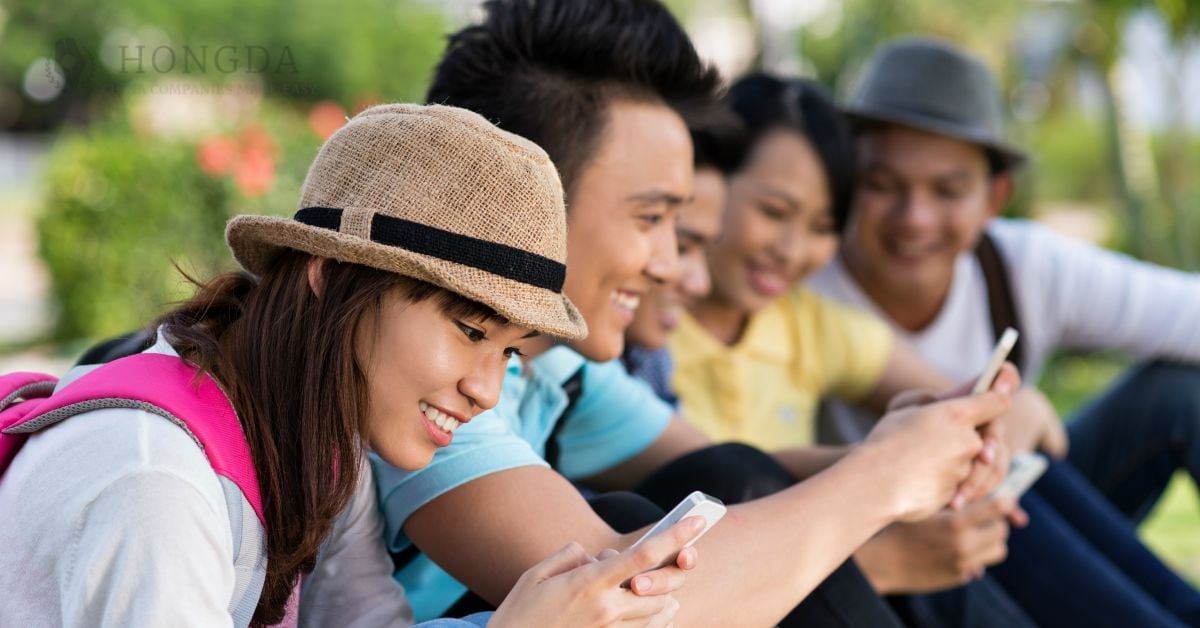 Not WeChat Marketing? It Will Hamper Your Starting A Business In China!
In part 1 of this blog we explored why setting up and using an official WeChat account could almost be said to be as important as choosing which type of China company to open for those of us starting a business in China!
As we uncovered, WeChat looks and behaves like WhatsApp, but beyond instant messaging the similarities end.
WeChat is an instant messaging mobile app, but it also offers:

Official accounts - a mobile website for your company
Online and offline payments
Mobile store building
Ability to share updates of content with followers - this can also be segmented, meaning that you control who gets which update
Advertising- where large companies can pay to share content
Interest groups - where anyone can join and chat with their peers and companies about topics which interest them
So whereas Western messaging apps like WhatsApp are, at present, merely useful for messaging, we can see that WeChat offers a one-stop-shop solution for building a community and doing business online in China.
Now you may know why to use WeChat, but how do you go about building a community, generating leads, and doing business with it?
Explore WeChat marketing with Hongda Business Services in part 2 of this blog...
How To Capitalise From WeChat
If you're manufacturing in China, but your business is focussed on exports, then although WeChat is good for you to keep in touch with local suppliers and contacts, you may not need to use an official account to generate leads.
However, if your China company is selling services or products within China, then the full range of WeChat features are for you! Let's look at how to use it in order to gain more followers and consequently business leads in China: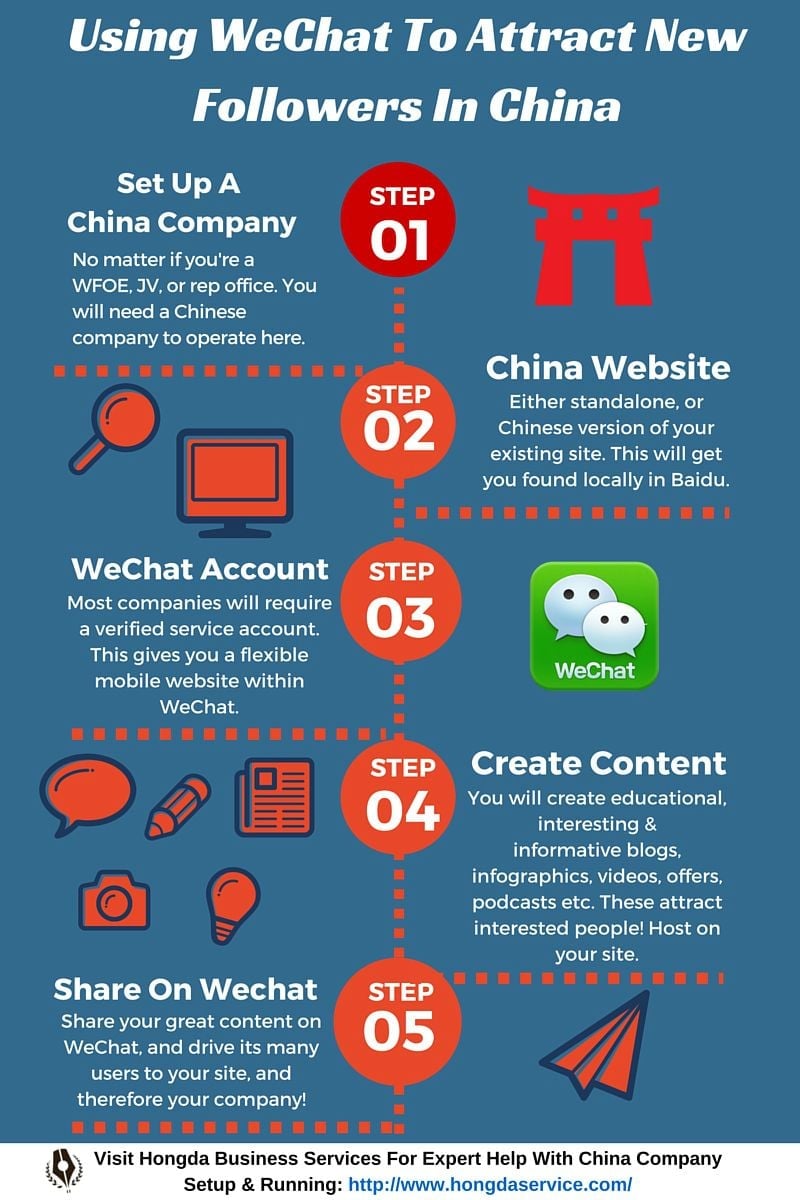 .
Driving new traffic to your website, which acts as your company's main 'storefront' online is the name of the game.
Since WeChat has the largest number of users in China, it makes sense that you share your excellent content there using your official WeChat account in order to tempt people who are interested in your company to click it, and go through to your site.
What's more, it's so simple for people to 'add' your account to their WeChat. Chinese users are very familiar with the 'scan and add' system, where they scan your account's QR code and add it to their followed list. Even better, unlike with other social networks, you can incentivise people for scanning and adding your account. It's common to see discounts, free gifts or content, and lucky draws being used to tempt interested people to take the plunge.
Below you can see that the lure of winning a free IPad is being used as an incentive to follow this WeChat account: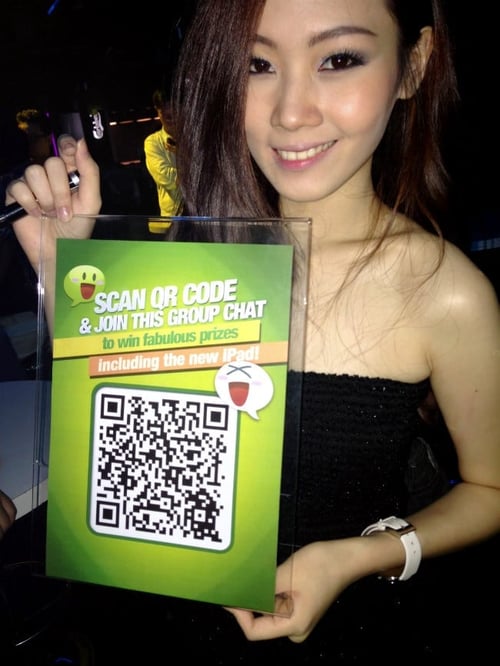 Once on WeChat or your site they may, if interested, choose to become a lead by registering their interest in your services or products (your website should be set up to gather leads by having interested parties fill out forms with their contact information in order to get further information, free gifts, offers, etc.).
Keep them interested by being sure that your content, such as blog posts, is of the highest quality and is genuinely interesting, helpful, or both. If your website also enriches them, by being useful and interesting, then you will have a better chance that they'd subscribe to your mailing list, for example, thereby becoming a lead who your business could contact.
Think about this:
How would you feel if a company you had an interest in offered you regular useful, free, information?
Rather than advertising at people, and pushing them to buy with discount offers and similar, WeChat allows you to truly help them, thereby nurturing relationships and building the trust needed for them to go on an become a customer when they're ready.
WeChat "One-Stop-Shop" - The Catalyst For Doing Business In China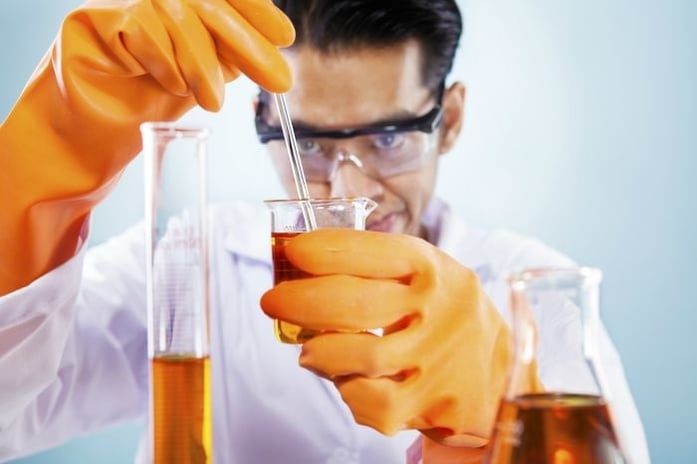 So you can see that WeChat is the catalyst that drives lead generation for foreign companies in China!
Without WeChat you're relying on expensive Baidu ads to be found in search, or organic search results which take a lot of time and effort to bear fruit; however by sharing great content socially on China's favourite social channel it's possible to build up a vast community of interested followers who are just champing at the bit for your next post, many of whom could be interested in becoming a customer!
But once you have that lead with WeChat, what are you going to do with them?
It's possible that they have visited your website and subscribed to something such as your email newsletter by filling out a form with their contact details, but you still have these folks as a WeChat follower too.
In the West followers of social media are typically constrained to liking, sharing, commenting, and favouriting posts. Companies can also send out offers to specific targeted fans by paying to reach them, or can share 'one-size-fits-all' offers on the pages themselves.
The problem with this method is that the offers are vague.
To get really specific and start selling to very specific people, you'd need them to come from social media to your website's eco-system of site pages and emails where you have the control to give them offers based on any number of elements (such as if they're a return visitor, or have bought something before).
Since WeChat is commerce driven, in order to start monetising your followers you don't need them to go to your site.
As we mentioned, in order to gather their details and convert them to leads it may be wise for them to visit your site and sign up as then you can use email to contact them moving forward, although WeChat offers this function too (just that you own your site and so it's more secure for your leads, getting analytics, and having the flexibility to do exactly what you want to do without having to work within WeChat's framework).
What is of interest is the depth of options to interact with and sell to followers that WeChat offers businesses.
For example, on Facebook companies could post an offer on their time line. This would be seen (as a default) by all fans, despite the fact that it may not be relevant to many of them.
Using WeChat companies could allow a follower to find their location, and offer them a specific offer based on their previous tastes (purchase history), the temperature, or if they're a membership card holder. Pretty neat, huh?
Why?
Because WeChat resists being pigeon-holed. Whereas Facebook is first-and-foremost a 'social' network and take great pains not to be too commercial, WeChat is unashamedly a social, commercial, and messaging channel.
Conclusion
Ignore WeChat at your peril.
It's an excellent way to get in front of the people who could become customers and do business with them in China due to its massive following.
Are you considering using WeChat to help when starting a business in China?
What would you like to achieve with it?
Have you experienced WeChat outside of China in your country, or is it only something that's new for you?
Let the Hongda community know your thoughts about why to use WeChat and any tips or useful experiences that you might have by leaving a comment!
P.S. Don't forget to read part 1 of this blog to learn what WeChat is, and why it's so important for China companies.
---