Outsourcing HR in China
HR outsourcing is a growing trend around the world that can be defined as "a process in which the human resource activities of an organization are outsourced so as to focus on the organization`s core competencies".
The global HR outsourcing (HRO) market has seen a meteoric rise in recent years, particularly in the Asia Pacific region where emerging markets such as India, Indonesia and China are expected to grow by as much as 25%, 5 times that of the mature North American and European markets.
Outsourcing human resources in China has become big business for consultancies looking to help foreign businesses establish a foothold on the mainland. Business people around the world are becoming increasingly eager to make use of third party providers to help them expand their services in different business areas, and in different geographical locations, with China perhaps being one of the more difficult regions to navigate.
As the trend of foreign businesses setting up companies on the mainland becomes more prevalent, it is perhaps wise for those looking to invest in the market to take a closer look at why using a third party provider may help strengthen their position in China.
In this blog I will take you through the pros and cons of outsourcing human resources in China through a consultancy so you can see if it is the right move for you...
The pros of outsourcing HR in China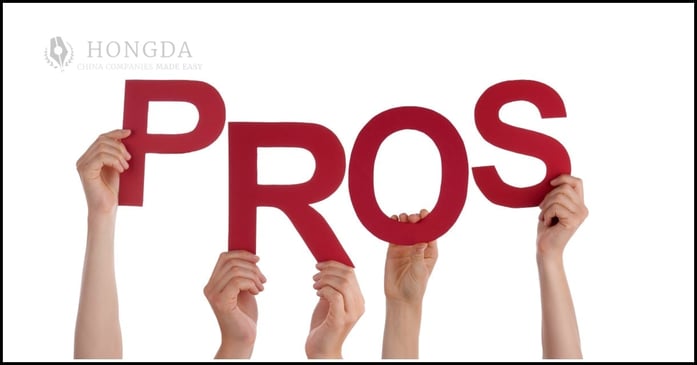 1) Tap into local expertise and core competence
Navigating the business culture and etiquette in China has proven to be somewhat of a challenge for foreign businesses over the years. By outsourcing HR business owners have the unique opportunity of leveraging local expertise to help grow your business and cut through any of the red tape involved in managing one on this side.
2) Navigate complicated labour and employment laws
Whilst having a basic knowledge of the different regulations and laws is a must for every employer, it is just so much easier to employ someone who understands it better than you. Their is less risk involved as a local consultancy will be on hand to provide you with the best possible advice, inform you of policy changes and ensure that you can concentrate on what really matters, running your business.
3) Save time and grow your business from the get go
Outsourcing HR helps businesses to acquire the necessary expertise within a shorter period of time than having to do everything on your own. This helps you to save more time and grow your business from the outset.
4) Gain cost efficiency
Outsourcing transactional activities (e.g. payroll) and the hiring of a consultancy enables one to gain cost efficiency as it is cheaper than hiring and maintaining local staff members.
The cons of outsourcing HR in China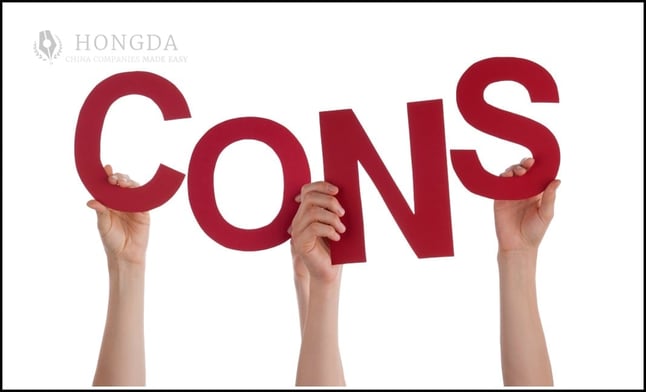 1) Lack of control
By giving up a certain amount of control business owners place their faith solely in the ability of a consultancy to fulfill what is expected of them. Outsourcing HR therefore may have a negative impact on the control and coordination of a business and the outsourcing relationship, adding more challenges to the effective managing of HR.
2) A challenge to maintain corporate culture
Outsourcing human capital activities such as recruitment, training and development presents a challenge to maintaining a company's corporate culture and values. Local employees from a third party provider may be unwilling to conform to Western ethical standards, making integration into the organization at large very difficult.
3) Outsourcing HR takes away the bonding element
Outsourcing HR takes away opportunity for interaction between line/HR managers and the employee. This may lead to the employee feeling undervalued when having to deal with a third party for private matters within the business, and subsequently may lead to a talent retention problem.
Conclusion
At the end of the day, the most important thing businesses have to look out for is finding the right third party provider for them. You have to make use of provider that:
understands your corporate culture and values, and uses it as the benchmark for providing you with the highest quality HR services.
can provide you with a comprehensive list of their HR services and its benefits to you
can converse with you in English
can provide you with all the necessary reports/documentation in English
can run you through basic labour and employment law
can provide you with legal consultancy in case of dispute
Does your company require help with human resources in China?
How do you currently handle HR? Do you have in-house staff to deal with it, or do you outsource?
What are your biggest HR challenges in China?
Let us know your thoughts by leaving a comment below please.
---