When considering doing business in China, the first question that always comes to your mind is: in which city should I start my business? Choosing the right city to pursue your success in China is not a simple question. There are numerous factors to consider. The business attractiveness landscape is the comprehensive result of the business resource aggregation, urban hubness, resident activity, and future plasticity and development potential.
Business Attractiveness and Eco-system in China – Chinese Cities Series!
To help you choose your ideal location to start your business, Hongda has planned a series of blogs on the business attractiveness and eco-system in major cities and regions across China, including Beijing, Shanghai, Guangzhou, Shenzhen, Hainan, and Hong Kong S.A.R.!
Still not sure how to choose the optimal destination for your investment? Simply book a free meeting with Hongda's consultation and we will discuss your business plan and advise you on the most suitable city for you to run your company. If you want to know the investment landscape of any other cities in China, you are also welcome to contact us and let us know your requirements!

Guangzhou - The Investment for The Future
Guangzhou, also known as Canton, is the capital and the largest city of Guangdong Province. Nicknamed 'The City of Rice' or 'The City of Rams', Guangzhou has become a dynamic metropolis located in the southern part of China. Since ancient times, Guangzhou has served as the major terminus of the Silk Road, and it continues to perform as a major global trade center and transport hub nowadays. Locating at the heart of the Guangdong-Hong Kong-Macau Greater Bay Area, Guangzhou is the home to more than 18.73 million individuals, making it the 5th most populous city after Shanghai, Beijing, Shenzhen, and Chongqing.
Long before the Tang Dynasty, Guangzhou had been recognized as one of the important ports of the Maritime Silk Road, which connected China with East Africa and Europe, traveling across over 100 countries and regions. Since the foundation of the PRC, Guangzhou has continued to attract foreign investors and global traders, making it one of the most popular investment destinations in China and even the world. As the core of the GBA, Guangzhou has the strategic positioning of the following aspects:
A dynamic world-class city;
An international center for technology and innovation;
A key component of the Belt and Road Initiative;
A demonstration zone of the in-depth cooperation among the Chinese mainland, Hong Kong, and Macao;
An ideal place for living, working, and traveling;


Keep reading for more details about the factors that make Guangzhou an ideal choice for you!

What To Invest? – The Advantageous Industries of Guangzhou
Guangdong has boasted a solid industrial foundation with comprehensive supporting facilities and a sound business environment, forming a strong connection with Hong Kong and Macao. Guangzhou, the heart of the GBA, continues to grow as the center of international finance, shipping, trade, and tourism. Among all the industry categories, three key areas are worth your extra attention.
Advanced Manufacturing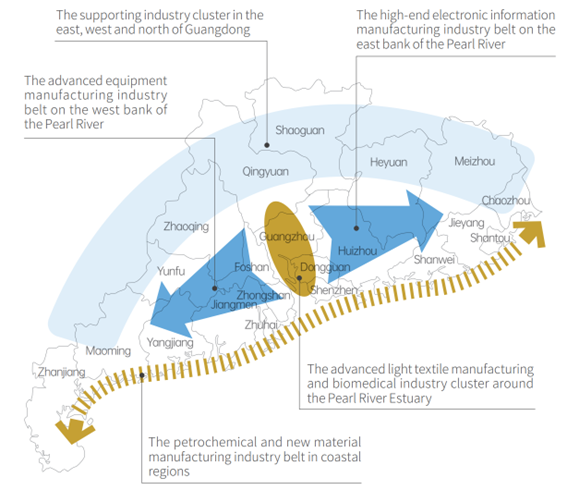 Reference: Invest Guangdong 2020 by the Department of Commerce of Guangzhou Province
During the past few decades, significant economic development has taken place in Guangzhou. According to the 14th Five-Year Plan of the Guangzhou City published by the government, the local GDP of Guangzhou had reached 2.5 thousand billion with an annual growth rate of 6%. A series of innovative industries such as high-definition displays, integrated circuits, smart and energy vehicles, and biomedicines launched in Guangzhou, which contributed to half of the high-tech industry.
This trend is expected to continue in the next five-year plan (2020-2025) as the government emphasizes the determination to support strategic industries.
Category

Key Fields

Next-generation Information Technology

Development of semiconductors and integrated circuits, ultra-high-definition video and new displays, intelligent terminals, software, 5G, Beidou communications and navigation, and industrial Internet;

Smart and New-energy Vehicles

Development and manufacturing of smart vehicles, pure electric vehicles, hybrid vehicles, and hydrogen fuel cell vehicles;

Supporting intelligent driving decision-making, intelligent sensing, human-computer interaction, three-electric systems (battery, motor, electronic control), high-precision maps, automotive grade chips, and new generation electronic and electrical architecture;

Biomedicines and Health

Development of biopharmaceuticals, modern traditional Chinese medicines, innovative chemical drugs, high-end medical devices, stem cells and regenerative medicine, precision medicine, genetic testing, high-end medical care, and high-end health care;
Apart from the strategic industries, some innovative manufacturing, transport, energy, materials, and culture industries are also encouraged in the 14th Five-Year Planning.
| | |
| --- | --- |
| Category | Key Fields |
| Smart Devices and Robots | Focus on the development of intelligent industries such as intelligent software and hardware, intelligent robots, intelligent vehicles, intelligent terminals, industrial control equipment, and additive manufacturing, as well as application service areas such as smart factories; |
| Rail Transport | Focus on the development of key rail transit technology research and development, design consulting, engineering construction, new standard vehicles, smart rail transit, inspection and testing, operation services, public transportation-oriented development (TOD), and maintenance services; |
| New Energy and Environmental Protection | Focus on the development of hydrogen energy, solar energy, nuclear energy equipment manufacturing, and energy storage, as well as the comprehensive development and utilization of biomass energy; |
| Novo Materials and Fine Chemicals | Focus on the development of advanced polymer materials, new energy materials, fine chemicals, green petrochemicals, metal and powder metallurgy, advanced inorganic non-metallic materials, and biomedical materials; |
| Digital Innovation | Focus on the development of games, e-sports, animation, creative design, public cultural digital services, and fashion culture; |
Modern Service Industry
Modern service industries are a priority for this region's development blueprint. In 2019, the province's industrial-added value grew by 9.7% to 3.8 trillion RMB. Within this figure revenues from strategic emerging services increased by 13.5% and high-tech services by 14%. A massive number of cutting-edge innovation-based enterprises lead the new sectors of the new economic development.
In 2020, Guangdong rolled out a blueprint to develop Guangzhou's artificial intelligence and digital economy pilot zone. The link would be the Pearl River, and the pivot would be Pazhou. They form a spatial layout with three areas on each side of the river over a total area of 81 square kilometers, which comprises the Pazhou Core Area (including Guangzhou Higher Education Mega Center), Guangzhou International Finance Town Area, and Yuzhu Area. By 2030, the pilot zone will become a development hub for digital industry clusters, providing strong support for the Digital Silk Road, and a global center for the development of artificial intelligence and the digital economy.
Sci-tech Innovation Industry
In recent years, Guangzhou has focused on innovating science research systems and talent development mechanisms to accelerate the construction of a strong region in science and technology innovation. The "Guangzhou-Shenzhen-Hong Kong Innovation Cluster" ranked No.2 among the top 100 global innovation clusters in 2020. Guangzhou jumped to 15th in the world in the "Nature Index - Scientific Research City" ranking, and among the selected Chinese cities, its ranking rose from 9th in 2015 to 5th. The number of national, provincial, and municipal key laboratories has reached 21 (accounting for 70% of the province), 241 (accounting for 61% of the province), and 195 respectively, and 10 Guangdong, Hong Kong, and Macao joint laboratories have been built (accounting for 50% of the province). The number of provincial-level new R&D institutions reached 63, ranking No.1 in the province for five consecutive years.
Where to Start? – The Guangzhou Nansha Pilot Free Trade Zone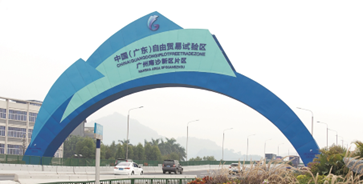 Fig. 1 Guangzhou Nansha Pilot Freetrade Zone
Guangzhou FTZ was formally approved and established on 31 Dec. 2014. After years of development, it has become an economic powerhouse with a high-level legal environment and efficient regulations that promote and facilitate global trade and cross-border investment. As one of the three FTZs in Guangdong Province, including Shenzhen Qianhai-Shekou Area (link to Qianhai Blog) and Zhuhai Hengqin New Area, significant achievements have been made with the focus on the development of the national science center, international high-talents hub, cross-border trade innovation area, as well as the GBA comprehensive cooperation zone.
Guangzhou Nansha New Area is committed to developing a more internationally competitive business environment, promoting high-quality development, and advancing opening up to a higher level. Making the most of its superb location in the heart of the GBA and its rich port resources to connect with Hong Kong and Macao and serve the mainland, it prioritizes strategic emerging industries including shipping and logistics, advanced manufacturing, financial service, tourism, and healthcare. A series of landmark reforms have been put in place here, including the Business Registration Confirmation System, the global traceability system, and the Global Declaration Service System. The approval of enterprise investment projects can be completed within 15 workdays from land acquisition to construction permit acquisition. Prior to any land sale, the government will publish clear guidelines on how the land can be used, along with any restrictions.


What Can I Enjoy? – The Investment Incentives in Guangzhou
Incentives for Talents
For qualified high-end talents, the 'Guangzhou Superior Talent Card' is the most beneficial incentive that foreigners can enjoy while living in Guangdong Province and Guangzhou City, which are rewarded to people who have made worthwhile contributions to regional development. The Card provides convenience for 7 categories of talent, including senior management personnel in foreign-invested companies. The cardholders, as well as their spouses and minor children, can enjoy the same policies as local residents in terms of house purchasing, education, healthcare, and pensions. Foreign cardholders can also apply for work permits and residence permits for 5 years through a fast procedure, and a priority process for permanent residence ID.
Foreign investors may also apply for the 'Guangzhou Talent Green Card' when meeting the related requirements. The policies give great support to serve top high-level talents, their spouses, parents, and children in Guangzhou by providing convenient services about residence documents, tax-free, household registration, education, bank account opening, and vehicle purchases.
Apart from the aforementioned policies, outstanding and young backup talents who seek to start their business for innovation on a long-term basis (A card or B card holders) can also apply for settlement subsidies ranging from 2 to 5 million once qualified. For short-term innovation talents in Nansha (C card holders), the subsidy is awarded on a daily basis, ranging from 200 to 500 RMB per day. When they are planning to purchase their first housing property in Nansha, an additional subsidy can also be provided to the family.
If you want to know more about the talent incentives in Guangzhou and see whether you can apply, please feel free to contact Hongda for a meeting!
Tax Incentives
A series of industrial upgrading methods have been developed to transfer from 'Made in Guangzhou' to 'Created and Designed in Guangzhou', and the transformation has been accelerated with the efforts of high-level professionals. To further encourage foreign investment in this region, the Ministry of Finance and the State Administration of Taxation issued serial notices on the corporate income tax and individual income tax exemption treatment for the subsidies of overseas talent working in Guangzhou.
To attract foreign investment landing in Nansha Guangzhou FTZ, companies engaging in the industries on the encouragement lists will enjoy a capped corporate income tax of 15%, including high-tech industries, IT technology, advanced manufacturing, biomedicines, new energy and materials, shipping and logistics, modern services, and finance. In addition, from January 1, 2022, small- and medium-sized enterprises established in Nansha are allowed to settle their uncompensated losses incurred during the previous 8 years when they obtained the qualification of high-tech or tech-based companies with a maximum carryover period of 13 years. This further decreases the burden of R&D and production on the enterprises at the initial stage of operation.
For individuals, there are incentive policies regarding individual income tax as well. For Hong Kong residents working in Nansha, the portion of their personal income tax burden that exceeds the Hong Kong tax standard will be exempted; for Macao residents working in Nansha, the portion of their personal income tax burden that exceeds the Macao tax standard will also be exempted. Taxpayers can enjoy the above preferential policies when handling annual personal income tax settlements.
At the same time, the updated individual income tax deductions may also help you save money. Please read our recent blog See How Much You Can Save with the Individual Income Tax Updates.

Incentives for Enterprises
Industrial Housing: for enterprise headquarters locating in the key agglomeration areas, the government provide rental-free support for office buildings for a maximum period of 3 years. Those who purchase office properties for self-use will be provided with a one-time purchase subsidy. If you choose to rent office buildings, industrial plants, or warehouses in the Nansha FTZ, a subsidy for up to 3 years will be given based on the actual leased areas.
Award for Fixed Asset Investment: for new fixed asset investments by headquarters-based enterprises (including key technological updates and transformations, excluding land and real estate purchase costs), a one-time reward will be given based on the actual total investment amount of the project, which may go up to 50 million RMB.
Enterprise Level-up Award: enterprises listed on the Fortune Global 500, World Fortune 1000, China's Top 500 Enterprises, China's Top 500 Private Enterprises, China's Top 500 Manufacturing Enterprises, China's Top 500 Services, and China's Top 100 Retail Companies for the first time will be given a one-time award.






What Else? – Ideal Place for A Balanced Living and Working
Modern, open, inclusive, diverse, and convenient for business, Guangzhou is attracting more foreigners. The quality of transport, communications, medical treatment, education, and living environment enable people from all over the world to easily integrate into local life, making it an ideal place for living, working, and traveling.
Convenient Trasport: an internal rapid transport network system in the GBA has been built to realize the 'one-hour' life cycle between major cities around Guangzhou, Hong Kong, and Macao.
International Education Standards: the various international schools with outstanding standards, together with its nation-leading universities such as Sun Yat-sen University, provide high-level education to your children.
Quality Medical and Healthcare Facilities: the high-level hospitals in Guangzhou can provide great healthcare services and improve the level of medical provision for foreigners in this city.
Conclusion
Guangzhou, especially the Nansha Pilot Free Trade Zone, is becoming a popular investment destination for enterprises across the globe. The government is also putting more incentive policies into effects to attract foreign investment to start their operation in this area. With the aim to build the science hub in the Greater Bay Area, the Nansha FTZ has launched great support for entrepreneurial youth from Hong Kong, Macao, and Taiwan, encouraging them to pursue their success in the Chinese mainland. Outstanding support and subsidy for international enterprises also backs them in developing and growing in this innovative center.
Guangzhou's high-quality education, medical care, elderly care, and the livable urban environment have created a cost-effective life experience for whoever working and living here. This allows talents to gain a sense of achievement in hard work and a sense of happiness in life.
Guangzhou will definitely be an optimal choice for you to consider starting your business in China, especially in the GBA. If you want to know more about Guangzhou and its incentives to foreign investors, please don't hesitate to book a free consultation with Hongda's team.
---