Setting up a company anywhere can seem like an easy enough endeavor at first, but the reality is that it's never as clear-cut as you would like. Setting up a WFOE in China, on the other hand, looks difficult from the start but it doesn't have to be a tedious process!
This blog takes a look at some key points to answer the question: 'Is a China WFOE right for my business?'
Considering you've read this far chances are you probably know more or less what a China WFOE is, nonetheless here's a quick overview:
A WFOE (Wholly Foreign-Owned Enterprise) is a privately held limited liability company in China in which all the shareholders are foreign. It is the most favored investment vehicle as it gives full autonomy and control to the foreign parent company. They also come in various forms: A Consulting WFOE, which is the easiest to establish, a Manufacturing WFOE, which allows companies to manufacture in China, and a Trading WFOE or a Foreign-Invested Commercial Enterprise (FICE), which grants companies both import and export licenses and allows them to trade locally.
So Now For The Big Question - Is A WFOE Right For You?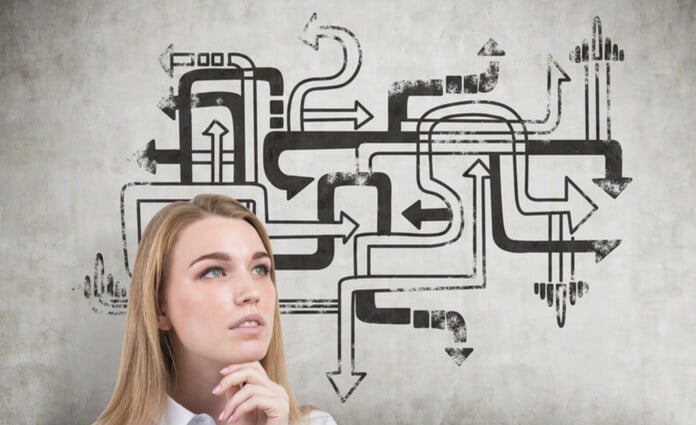 To make things simpler we've broken it down into three subcategories-WFOE business scope, Setup Cost & Taxes and Pros & Cons.
What is my WFOE business scope?
You will need to define the business scope of the WFOE in the application stages already, and can only act within this scope going forward. There are three different types of WFOE scope generally used:
Service (Consulting) WFOE

Trading WFOE (Foreign-invested Commercial Enterprise, "FICE"

Manufacturing WFOE
There are significant differences in the setup procedures, cost and working field between these three and certain criteria needs to be met for the different types of WFOE's. I would strongly recommend reading "Setting up a WFOE in China: The Process Explained" for an in-depth look at the different processes involved.
Setup Cost & Taxes
Depending in which city and the type of business you will be undertaking (consulting, manufacturing, services, commerce etc.) the China WFOE minimum capital registered will vary.
Chinese authorities at the Ministry of Commerce (MOFCOM) in the PRC will typically require a minimum commitment of between RMB 200k to RMB 500k, which is roughly between $30k -$73k USD, for a basic consulting WFOE (a manufacturing WFOE would normally be required to inject more registered capital but you can confirm this with a consultant at Hongda).
What will the taxes look like?
Business tax

: Based on turnover 3-5% applies to the service-oriented part of the business.

VAT tax

: based on the Value added part of products, applies to trading and manufacturing businesses. VAT varies depending on products, and some goods and services are even exempt.

Corporate income tax

: based on gross profit is 25% nationwide (since Jan. 1st, 2008) except for High Tech businesses with tax incentives in special economic zones, and encouraged industries in Midwest China.

Dividend tax

: 20%, however, for public listed companies the dividend tax is only 10%.
PRO's and CONS of a China WFOE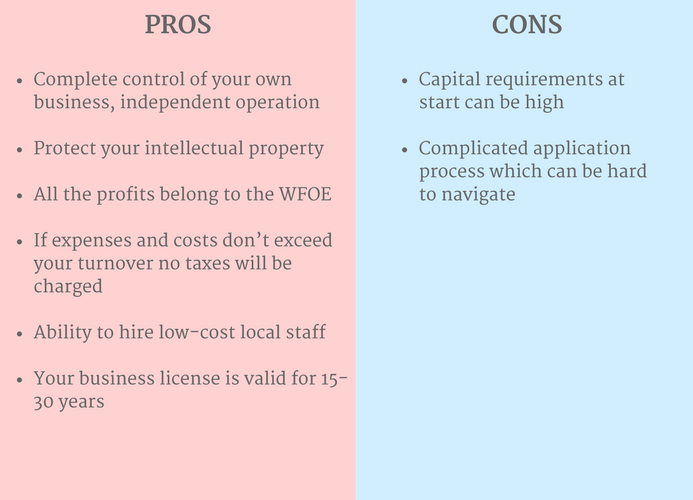 Deciding what type of WFOE/Company to set up in China can be a difficult question to answer. Regardless of which way you're leaning, we would recommend getting in touch with experts that deal with this on a daily basis, for up to date information and best advice.
Are you wondering 'Is a China WFOE right for my business' right now? What concerns or questions do you have?
We would like to hear any stories, questions or advice in the comment section below. We'll be happy to help advise you.