What happens when you mix billions of dollars, innovation, business savvy, forward-thinking entrepreneurs and a very strategic geographic location together? You end up with Qianhai; if you're not familiar with the region yet here's what you need to know.
If you're familiar with Shenzhen or Hong Kong it's likely that you would have heard about the Shenzhen-Hong Kong cooperation zone, more commonly known as the QianHai Special Economic Zone.
Qianhai is situated to the far West of Shenzhen and isn't more than roughly an hour away from all other major PRD manufacturing and commerce hubs: Foshan, Guangzhou, Dongguan, and Zhuhai as well.
Qianhai focuses on four main industries:
Finance,

Modern Logistics,

Information Services,

Technology and Professional Services
QianHai kicked off in 2010 to offer a stepping stone for a range of businesses seen as beneficial to China's economy in the future, and Mainland China and Hong Kong have been strengthening ties in the process.
These fact slides of Qianhai will get you up to speed: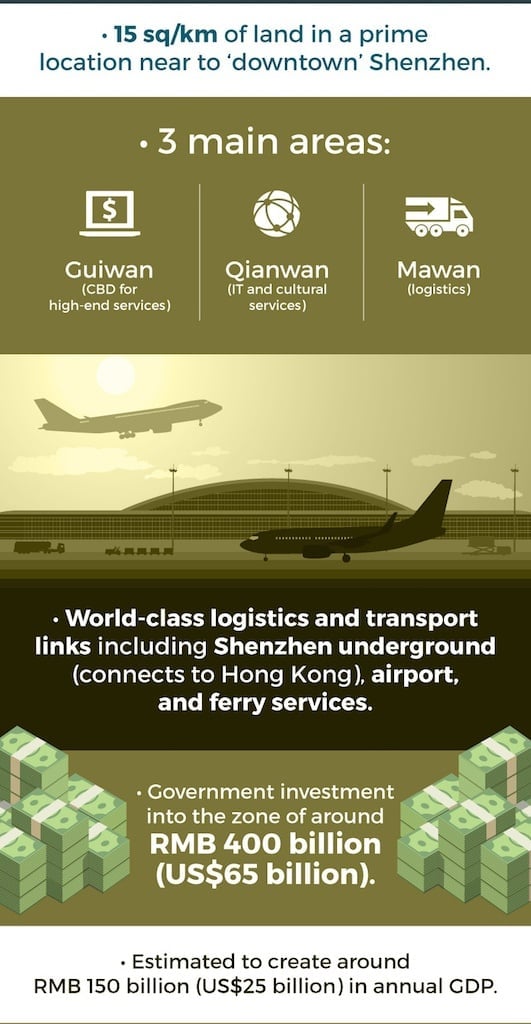 In 2016 there were already more than 5,000 logistics companies operating in Qianhai. Domestic and international logistics giants like S.F. Express and DHL have located their local head offices in the area, read the full story here.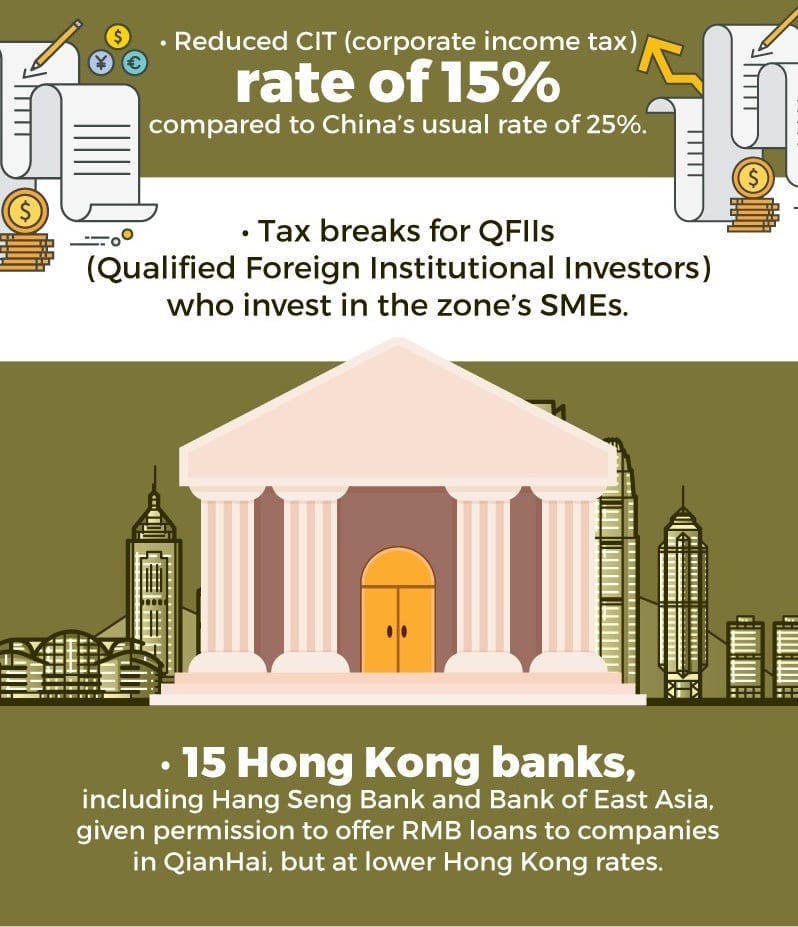 Setting up a Shenzhen Qianhai WFOE requires an investment of 5 Million RMB paid into the capital account, however, this can be spread out over a 5 to 10 year period. You can forego this initial investment if you use an existing Hong Kong registered company to set up your WFOE there.
<< Download our Free Checklist for Setting Up a Company in Qianhai >>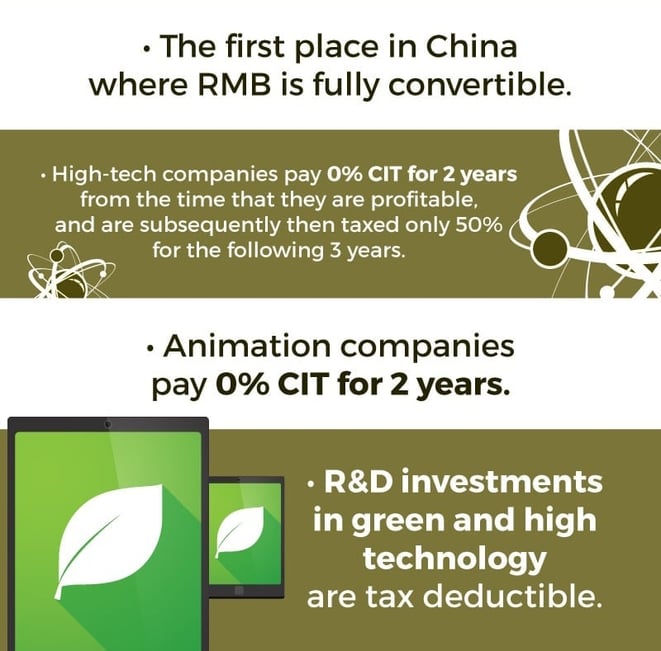 Qianhai is luring entrepreneurs from near and far, especially those from Hong Kong "Free-trade zone in Shenzhen lures Hong Kong entrepreneurs chasing their dream"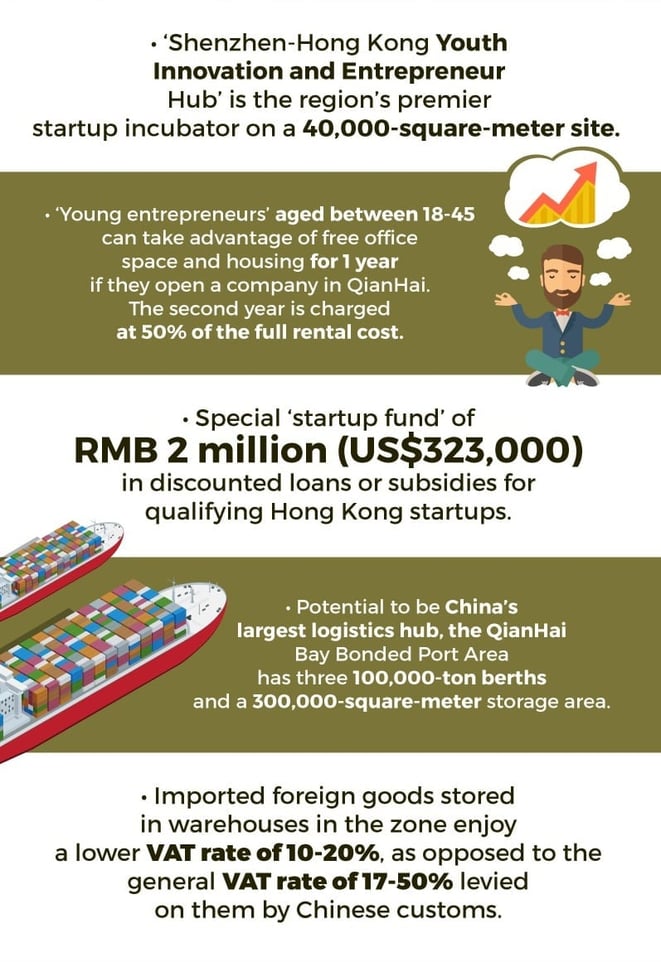 The Chinese government have already invested a vast amount of funds into the area with new buildings, infrastructure, world class logistics, health, education facilities and more. This has been luring in investors from across the border with the number of Hong Kong companies registered reaching 4,223 at the end of last year.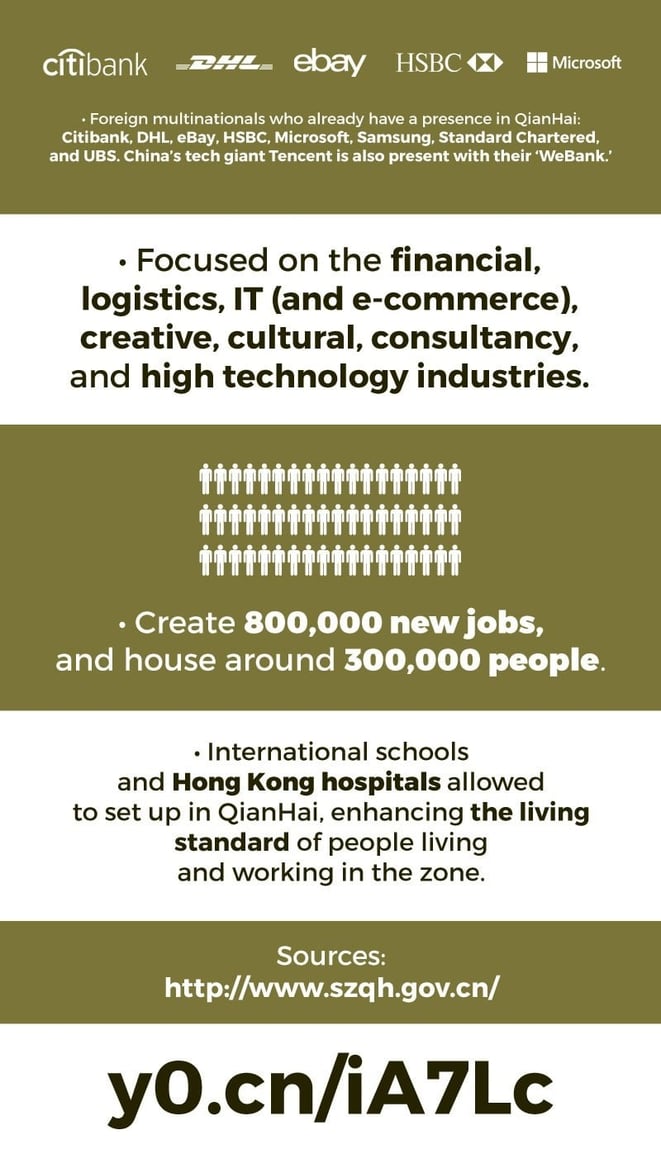 The Shenzhen Qianhai special economic zone is arguably the best and most strategic location to start your business or expand your existing business to gain a foothold in China. The district has been fine-tuned to suit entrepreneurs and innovators, and all the indicators are pointing towards a prosperous future for all companies making the move there.
Have you thought about opening a company in Asia, where are you thinking to set up? Have you had any experience with company registrations in China or Hong Kong?
We'd like to hear about your experiences, or if you have a question, just add it to the comments section below and one of our consultants will respond to any queries you may have.